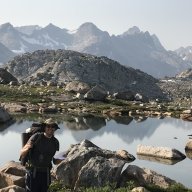 Joined

Mar 1, 2015
Messages

522
Hello all, I have a couple of questions for the Maze experts out there:
Has anyone done the route from Sweet Alice Canyon up to the Land of Standing Rocks? If so, how hard is the scrambling on that exit? I've seen people refer to this route and I have come across maps/gps coords for the route, but have never actually read a report of someone doing it, so I don't have a feel for how sketchy it is in terms of exposure, route finding, scrambling difficulty, etc. Does anyone know how tricky this is compared to the other exits in the area? (I've done several of the other ascents and descents in the Maze, and have read about most of the others enough that I can better gauge their difficulty).
I am hoping to drive from the Hans Flat ranger station up to the top of the Flint Trail Switchbacks, or at least as far up the road as I can, in my Subaru Outback. I'm not planning on taking my vehicle down the switchbacks. Does that sound reasonable, or am I crazy for thinking of heading up that road in a non-HC/4WD vehicle? I will not attempt the road if there has been recent rain/mud, or if there is rain in the forecast for the end of the trip.
How reliable and clean is Clell's Spring compared to Lou's? If I do this trip, it will probably be in April (or possibly late March), so hopefully in a normal year I can count on good water at Clell's at that time of year?
Thanks in advance for any feedback!