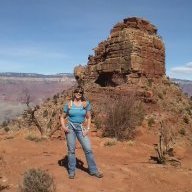 Joined

Oct 1, 2012
Messages

961
I couldn't find the thread so I'm starting this one:
Zion National Park
April 15
Mountain lions have recently been reported on the Taylor Creek Trail in the Kolob Canyons area of the park. While encounters with these elusive felines are rare, would you know what to? We'll post our safety tips later today.
508
Like
· ·
Share
Top Comments
Riana Martinez, Margie Benton, Dawn Farrelland 2,142 others like this.





Zion National ParkThough mountain lions are secretive and sightings are rare, they have been observed in the park recently. For your safety, watch children closely and don't let them run ahead or lag behind. Solo hiking or jogging is not recommended. Never approach a mountain lion, and make sure it has room to escape. If you encounter a mountain lion, do not run. Try to look large. Wave your arms and throw rocks or sticks at it. If attacked, fight back. Please report any


Taylor Creek isn't far from LaVerkin Creek, especially if you're a mountain lion. I guess I won't be walking around by myself taking night shots. I'm laughing out loud-sorry guys, this is the kind of luck I bring on trips!