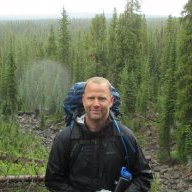 Joined

Nov 2, 2014
Messages

75
On July 3rd,
@Joey
,
@Keith R.
and Patrick decided to walk the entire length of the Mary Mountain trail. We had a 10 day backpack and a 22 mile day hike coming up so we figured we would warm up with a 21 mile day hike. Actually it's one of several through hikes
@Joey
and I are working on and we couldn't resist knocking it out when we had both our cars at the park.
We had a late start as we had to get to the Park, meet up and position a shuttle vehicle at the west end near the pair of moraines just off the road. We got started at the east end by about 10AM.
The first few miles through Hayden Valley were very pleasant – it was sunny but breezy and the grass was still very green. There are some rolling hills but you can make good time.
Soon you can see Crater Hills Geyser in the distance. I went there a few years ago back when the park offered the "Ranger Adventure Hikes". It's a decent thermal area worth a visit if you are into thermals (but don't go alone).
We did come across some bear scat but we didn't see bears. In retrospect we should have brought binoculars.
We saw a few Bison but there were no big herds in our way.
This trail has some old signage -- here is the remains of one. There are more but that's a whole different story including that of other trails that once led to Mary Mountain.
The trail does get a little challenging to follow towards the western edge of the valley so I recommend brining a GPS to make it go faster.
We eventually came across the location of the Grizzly kill from 2011 and pondered how surreal it was to be there. I would never hike alone in Hayden Valley. When taking breaks, we had people facing in multiple directions.
From there the trail changes rather dramatically as it follows the bison highway up into the woods.
The trail is very well defined in the woods and it's a few miles until you reach the lake.
At the lake most of us rested but
@Joey
did look for a duck that a friend had left there a few years ago (incidentally on the same day the hiker was killed by the Grizzly – assuming I have my facts straight).
@Joey
and
@scatman
were mentioned in the report (not by name) as having been seen at Mary Mountain that day but they didn't take the Mary Mountain trail.
After lunch and rest at the ranger cabin we continued to the west. The trail changes again as goes sharply downhill – at times following a drainage. This is one reason I would recommend starting from the east – it feels more downhill in that direction.
When we made it down to the meadows on the west side, a rainstorm rolled in so we waited it out in a stand of trees. It gets pretty marshy in this section (another good reason to start from the east side – keep your feet dry as long as possible).
More old signage:
At times the trail is very easy to follow but a couple times we got fooled by game trails.
Another old sign:
We were pretty tired for the last few miles but enjoyed the features (scree field, old bridge and some thermals) before making it back to the car.
Then we had the long drive back to pick up the other car and then back to our campsite. It's a long hike but a good hike.
@Joey
,
@Keith
R and I would be back at Mary Mountain ranger cabin a few days later with
@scatman
but by a different route entirely. I've been to Mary Mountain ranger cabin twice in my life – July 3rd and July 6th of 2016 but by different routes. By taking the two different routes we managed to hike the entire length of the old service road and we managed to reach the cabin from four different endpoints (east and west ends of the Mary Mountain trail, the cygnet lakes trailhead and trout creek) so it was kind of fun doing those two trips in quick succession.
Last edited: