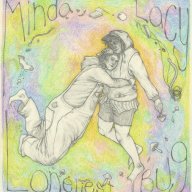 Joined

Mar 10, 2016
Messages

140
From awhile back, another spot in the Delamar Mountains, straddling that transition zone of Mojave Desert/Great Basin. Another great winter weekend with mild, albeit windy days and cold nights. And easy walking up the constant but mostly mellow east slopes for ~5 miles. Zig-zagging above canyons through bunch grassed terrain.
After some effort and time, I made it to the final hanging valley.
I headed south above, past some square waved outcrops.
To a suitably flat camp.
Then I just relaxed and wandered around.
Next morning
I made the short, .25 mile maybe, hike up Mar to gawk a bit.
Then headed back down.
While relaxing here I hear jets from one of the surrounding air bases passing through steadily. As I sat looking down canyon while hearing the roar of one, I saw it bank towards me and climb hard out of the valley below. Not the first time I've been buzzed. Always exhilarating.
Almost back to valley floor.
Love it, love it love it love it out here ! Few areas I have any desire to visit more than once, this is one of them.
Last edited: