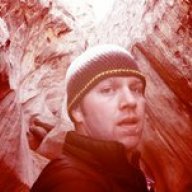 ^^^^^^^^^^^^^^^^^^^^^^^^^^^^^^^^^^^^
Joined

Jan 18, 2012
Messages

464
Caiden was working toward his year-round camper merit badge during 2011 and during the football season we had a hard time staying consistent, so we had to get in a few trips toward the end o the year.
In late October we met up with my dad in Mapleton Canyon, which is a 5-10 minute drive from their house, and set up camp. We had the place to ourselves. It was actually quite nice. The forest service had recently came through and cut down a lot of branches that will make nice fire wood the next coming season. Unfortunately that stuff wouldn't burn so we had to branch out a little further to find good burning wood.
Being late in the fall it got pretty cold at night, but we lived through it. The next day Caiden and I did a little bike ride to the end of the paved road in the canyon, then hiked up the trail a while before turning around and coming back.
Waterfall along the rail
The fall colors heading up the trail
Caiden and I
We skipped November because the first three weekends we had football games (out of town on the last weekend for a game), then it was Thanksgiving, then we had other things going on, so December was upon us and we had to get a trip in this month in order for him to get his badge. Before we knew it, it was mid-December and we had to get out. We opted again to head back to Mapleton Canyon, this time we used my dad's tent trailer, hoping it would keep us warmer. I'm sure it helped, but we still froze our butts off. The campground had a lot of snow, but we had lots of wood to burn, so we stayed warm around the fire, but COLD in the trailer once it was time to sleep.
The tent trailer (is it cheating?? It had the word "tent" in it)
Caiden and his friend Alma around the fire
Caiden earned his year-round camper. I'm proud of him. Some of the trips were ones he picked out, some were ones we were already going on, and some were things he did with his own scout troop.