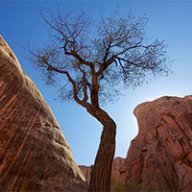 Joined

Aug 9, 2007
Messages

12,807
I've gone back to the 'Noob Camera Suggestions' thread so many times because of this awesome list of lenses
Dan
posted. I just pulled the trigger on some new glass for my G5 based on it. An Olympus 9-18mm and an Olympus 45mm 1.8 for portraits.
Anyway, I wanted to repost that part in it's own thread as it has been so helpful and to discuss lenses for micro four thirds cameras.
Here's a quick rundown of the lenses I have for m4/3, if anyone is curious.

Lumix 7-14

- Expensive, but very sharp, and very lightweight for what it is. Only complaint is that it doesn't have threads for screw on filters. In slots, I love the wide angle, probably the lens I use the most. F4 though, so it's slightly slow.

Lumix 14 2.5

- Great lens, SUPER lightweight, relatively sharp, but not as sharp as the 20 1.7. Still great for on my GF1 when I want basically a P&S size setup, but with SLR quality.

Lumix 20 1.7

- Another pancake lens, super high quality image, great for low light, and a fairly "normal" focal length on the m43 sensor. Awesome lens.

Lumix 14-45

- Came with my kit. I think this has now been redone as a 14-42 that is less expensive and lighter. It's the ideal "all around" lens, but it's not particularly great at anything. It's a variable aperture zoom.

Lumix 45-200

- Lightweight telephoto option. Build quality is quite good for $300. Again, variable aperture, so it's not great in low light and you don't get great bokeh. But I own it, and it's nice for telephoto landscape work.

Olympus 45 1.8

- Absolutely beautiful lens. Very light, great build quality, and great bokeh for m43 cameras. Use it a lot in video for shooting interviews, etc...

Lenses I don't have, but wish I did - Lumix 12-35 2.8

- Expensive, but is getting rave reviews.

Lumix 35-100 2.8

- Expensive, but great reviews as well.

Olympus 12 2.0

- Possibly the best lightweight fast wide angle lens in the m43 world. Could be a good fit with the new OM-D EM5 or GH3 if the high ISO is cleaned up.

Olympus 9-18

- Another super wide angle lens, has filter threads, is lighter than the 7-14, and gets great reviews.

Lumix 100-300

- be nice to have a long telephoto, though I get the feeling it's pretty standard in image quality and build, nothing outrageous.