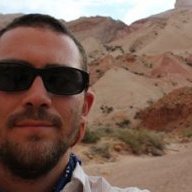 Desert Rat-Weekend Warrior
Joined

Jun 7, 2012
Messages

1,687
It was early march, and I checked the forecast for the following weekend. With a low of 50, and a High of 72 I knew it was time to use that last personal day I was hanging onto. With my wife coming along, I wanted to pick something that had available water, great views, and decent seclusion. We did Druid, and Chesler in the fall as her first backpacking trip. With the short amount of time to plan, I knew we couldn't get a permit to other canyon's in The Needles, so we planned on Lower Salt Creek.
We left our home in Salt Lake City around 5:30 am Friday March 15. We checked in and paid for the backcountry permit. After paying the exuberant $30 fee, we realized that Lower Salt Creek in the "zone" were the only permit available. Everything was booked, good planning.
We began near the Cave Spring entrance. I guess you can 4wd Drive down this road with a permit, the deep sand was tiring. The scenery was very interesting, the sky was overcast, but the temperature was great.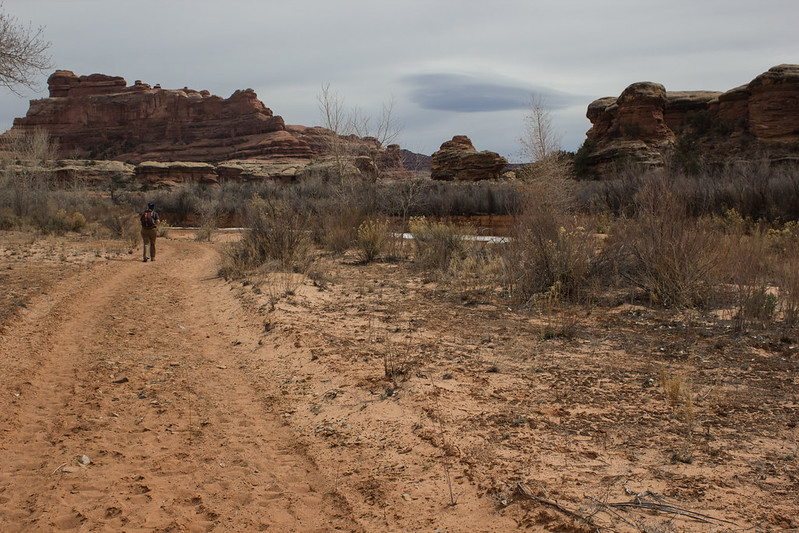 Salt Creek slog Lenticular
by
slc_dan
, on Flickr
We dropped our packs at the fork to walk up and check out Paul Bunyan's Potty. I scrambled/route found my way up under the arch while Jodi took a closer look at the dwelling.
Salt Creek Paul's John
by
slc_dan
, on Flickr
We then turned around and went back to the fork near Peak-A-Boo, and walked down Salt Creek.
We went about 2 miles, and found a good spot to camp.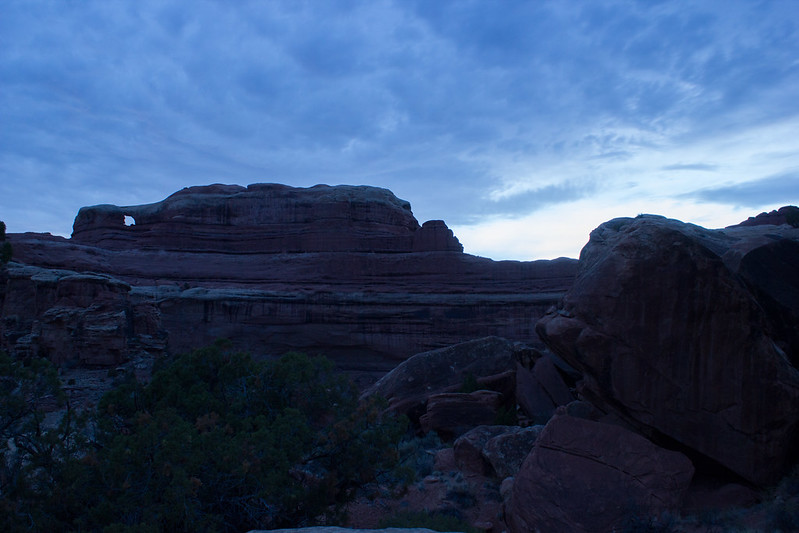 Salt Creek Camp View2
by
slc_dan
, on Flickr
The Next day we hiked down the Creek for a while, till we saw Cresent Arch.
Salt Creek cresent arch
by
slc_dan
, on Flickr
Nice weather made the walk real nice.
Salt Creek HooDoo Reflection
by
slc_dan
, on Flickr
I would have loved to go all the way to Angel Arch, but it would have been just a bit too long for us. After Cresent Arch we then turned around and went back to camp. We got back at the perfect time. The clouds broke at sunset, and the stars came out early. It was one of those perfect desert sunsets, just incredible.
I set up a time lapse, we ate dinner, and shared some wine I packed in a nalgene bottle.
This is my first time lapse, it was painful to put together, hopefully it will be less so next time.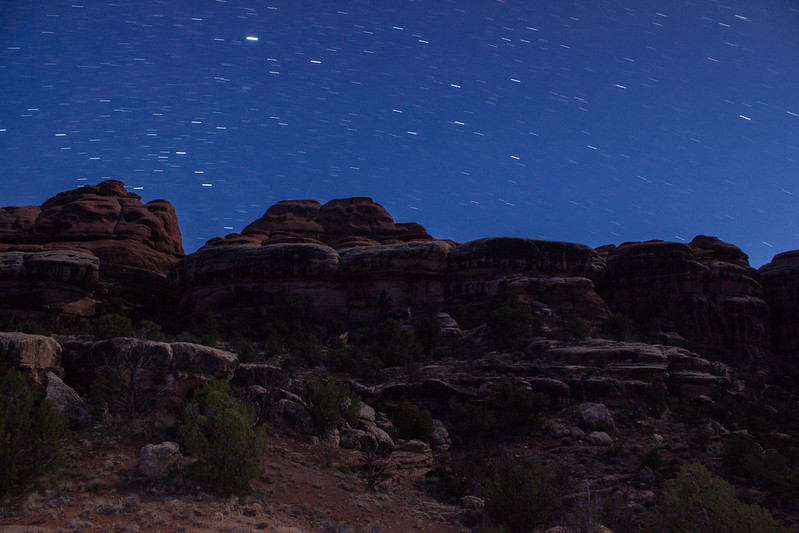 Salt Creek camp night
by
slc_dan
, on Flickr
The next morning we packed up camp, and walked out. That slog sucks. We got back to my trusty 2001 Civic. We stopped for a meal and a pint at Moab Brewery. Back to SLC. These two awesome nights shared with my wife in the desert will not be forgotten.
Featured image for home page: