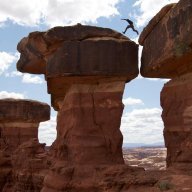 Joined

Jan 17, 2012
Messages

328
Been a while since I posted here but with the curiosity about Uintas conditions I figured this would be a good time to reactivate. Mandy and I made our way up to Lower Red Castle Lake this past weekend for our first trek up the famed East Fork Smith's Fork. I was aware of several, differing reports on conditions, so I wasn't exactly sure what we'd find. But with the crowds that this area attracts in summer (so I've heard), we figured this would be a great time to check things out, even if conditions weren't perfect. Turns out, with exception to a little bit of mud, that they were.
We arrived to China Meadows with a couple of hours of daylight to spare. We were greeted aggressively by hordes of mosquitoes and passively by a moose named Bruce. We filled the evening with a little game of stick. One for our dog Ellie, and one to beat off the insects. A distant storm over the Uinta crest hovered quietly in the distance.
We busted down camp early on Saturday morning, eagerly shaking the frost off the tent fly while our coffee cooled off too fast. The trail was muddy, but smooth. And thankfully, it seemed as if we shook off the mosquitoes almost as soon as we hit the trail. The forest ultimately opened up about 5 miles in and gave us our first views of Mt. Baldy and friends. Red Castle itself is barely visible to the left:
We finally made our way to the lake just as some towering Cumulonimbi began to gather above the Highline. Only passing over a handful of snow patches on the hike up, we arrived to a still mostly-frozen Lower Red Castle Lake. And best of all perhaps, the bugs didn't join us on this one. Barely thawed and too cold for the hatch. YES. Here's a 5 shot pano of the Lake from the western shoreline:
After a nice nap and dinner it was time to start thinking about photographs. I scouted the lake for a bit and after finding something I liked, we played a little more stick with the dog. It's an on-going thing, really:
The photographer in me found the shores of Lower Red Castle a little difficult to work. All willow-lined, there weren't many traces of workable foreground that I could find. So when the going gets rough, the going gets...desperate. So into the water I go, up to my crotch to the ice-line for some foreground:
After warming up after that frigid dunking, thinking things were over, the sky decided with it's last gasp to dance a magenta melody after sunset:
Woke up Sunday morning after a deep, quiet night of sleep and stumbled back down to the shoreline of the lake, this time near the northern outlet, hoping to work a cascade or two. Again, I was slowed by the lack of foreground and thickets of willow that made it impossible to get anything worthwhile. So back up to the shoreline, and after a deep breath, back into the water I go. There wasn't as much ice near the outlet so I was able to wade out a little ways until I got the reflection I wanted. Near freezing water up to the thighs at 6:30am? I think I found an all-natural substitute for coffee
Our leisurely picking up of camp turned into a hurried one as some dark clouds began to hunker down on us from the west. Thankfully, it only ended up being a brief shower. Good thing, as one of us managed to forget their poncho,
ahem
,
@drclef
. And so back to the trailhead we went without incident, minus that one porcupine that crossed the trail that thankfully Ellie didn't spot.
Can't believe it took me until the beginning of my fourth summer here until I made it up to this place! Timing was perfect too, before the mosquitoes and crowds hit. Certainly one of the crown jewels of the High Uintas. Can't wait to explore the upper lake and basin as well.
BONUS, totally amateur gear review:
I recently purchased the
Toaks Ultralight Titanium Cook System
. I've been sitting on a box of Esbit tabs for over ten years now, and have been thinking lately about how I should give these solid fuel blocks a try. Then this system showed up on
Massdrop
, and I figured why the hell not. Have to say, after just one weekend of use, that I'm pretty much sold.
Weighing in at a feathery 4 oz, the kit comes with a 550ml pot, titanium spork (foldable), windscreen, and "stove", which is really nothing more than a stand for the pot with a tray for your fuel tab.
Here's the kit put together, with trucker hat for scale:
For a kit so small, light, and simple, there will be compromises. It's not the fastest boil; we got 14 oz of water to come to a boil in about 7 minutes. So if you're used to the instant gratification of a Jetboil than this system might not be for you. Also, these types of kits aren't at all ideal for those that like or need to simmer their meals, as there is no way to control the flame. But if you're an instant coffee and MRE type that only needs boiled water, than this is about as good as it gets. So light, so good. My only complaint is the bottom of the pot does tend to collect a gummy black substance after each burn. Thankfully, although a little more difficult in the field, it is easy to clean off with hot water and a scrubber. A small price to pay for such lightweight efficiency.
Featured image for home page: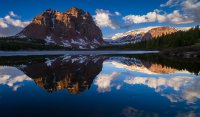 Last edited: