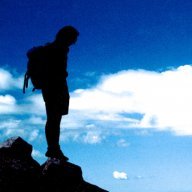 Joined

Jun 25, 2012
Messages

4,425
Here is a report on my solo into Lower Muley Twist canyon of the South District of Capital Reef National Park, exiting to The Post and back to the truck via the road and Waterpocket Fold switchbacks. One night, 15 miles and a nice loop. Here is the
route log
.
I want to dedicate this report to my fellow Capital Reef lovers
NateGeesaman
and
slc_dan
who have been exploring and reporting about this neighborhood this year and also
nick
for his labor-of-love that is this site, BCP. Thanks fellas!
So onto the good stuff. First, I call this trip moderately difficult with moderate route finding problems. You are following the wash south and thus navigation is easy but when you take The Post cutoff to head up and over the Waterpocket fold the trail becomes obscure with intermittent or missing cairns. I left the faint trail area anyway and moved north to a saddle to camp which you will view shortly. After a glorious night and camp I then route-found down due east from there goofing off - just sniffing out a bee-line way down. I failed on the first two slab gullies and then succeeded on the third, pretty close to where I imagine the actual Post cut-off trail is. At one point I scared myself a wee little bit because I had to reverse a steep slab due to being cliff'd out. If you stayed "on path" and could follow the obscure Post cutoff trail there would be virtually no risk and I would then grade the hike easy.
Saw this shy critter on the drive down. Can anyone ID?
This is taken on the drive approaching from Boulder on the Burr Trail from the west. The Burr Trail in the park (the only unpaved section), the WaterPocketFold and the Henry Mountains.
Near the Upper Muley Twist trailhead 4WD road. This massive arch looks very young.
Trailhead near the top of the Waterpocket Fold switchbacks. This is where you park and you register. The hike requires a backcountry permit from the Park. It is free and luckily you can get one form the Anasazi State Park in Boulder which I did. The only cramp is that you have to get the permit from here or the Park headquarters on SR24 during business hours and they won't give one out over the phone or online.
I carried 7 liters of water suspecting there would be none so my pack wasn't quite up to my normal "ultralight ethos". I did find a couple of potholes with some nasty water in the Lower Muley Twist itself. There was none at my dry camp and then I found quite a few in the slab gullies on the east side of the reef. No way of knowing ahead of time though so you can't really go without a bunch on your back.
A cool pattern on this Kayenta face in the top part of Muley Twist.
A typical view of the Muley Twist itself. Very scenic and a few sections of nice hiking narrows without much drama. There is NO WAY a wagon could be pulled by a mule through this canyon now. Twisted or not. I call
bull
unless they had done some clearing that has now been reclaimed by rockfall.
There is quite a lot of slickrock on this hike. My Fave!
An interesting tower I encountered. Calls my name to climb it.
Marbles anyone?
A neat arch I encountered as I was hiking the Post cut-off trail heading east from the Muley Twist proper to a "corral feature/port-a-john/trailhead" called the Post.
A glorious camp spot for the night. I don't often dry camp so I rarely get to camp up on a high saddle like this. Glad I had the water to stay here. I saw no people on this hike until I got down to the road. w00t!
An interesting erosional feature across the road as viewed from my bag. These types of water erosion features are one of the most telling clues that we can see from space that there was water at some point on the surface of Mars!
View of the descent direction. Compelling. Calling my name. You can see The Post in the background which is the destination. A corral in the park you say? Capital Reef is one of the few National Parks that still allows legacy, unwarranted and damaging cattle grazing. Damnation! Now, what lies below. Let's explore!
Looking up at one of the slickrock descent gull/slabs that turned out not to go. FAIL1.
After FAIL2 I succeeded on attempt 3 and this is looking back up to the general area where I camped up top and descended/explored. Pretty precipitous. You can see why I failed x2.
Beautiful autumn day to be alive and in the backcountry.
Had to walk the road back to complete my loop. With this kind of scenery that is no problem. Only saw a few vehicles on the road. Unfortunately half of them were towing ATV's.
Looking up at the
most awesome
Water Pocket Fold switchbacks. I hope the Park Services is able to fend off paving these switchbacks and all the roads that are unpaved in the park. That would be unnecessary development in one of our last wild places. The Notom road heading north from here is in good shape due to over-grading and is threatened to be developed and paved outside the park in the future.
After the requisite cold beer and chips I motored north on the Notom Road and then off pavement again through the lower and upper Cathedral Valley in the north district of the park. Highly recommended. Unique and interesting scenery - if you haven't tried it you should. A
long way from nowhere, though, so make sure you have your fix-a-flat and overnight gear.
You can then motor from upper Cathedral Valley up a steep road (2+ on the 4WD scale) onto the top of Fish Lake mountain and then over dirt roads all the way to pavement and in 10 miles or so I70 as well. Try it out.
All in all an extremely satisfying trip and I am glad to share. Enjoy and protect our wilderness!
Featured image for home page: