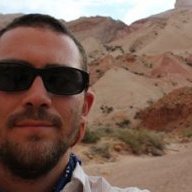 Desert Rat-Weekend Warrior
Joined

Jun 7, 2012
Messages

1,687
I've been hiking Capitol Reef as my favorite destination for the past 5 or 6 years. I keep finding new places, and each new spot fails to disappoint.
NateGeesaman
initiated me with some amazing car camping, and a longer hike called Navajo Knobs that extends past the Hickman Bridge trail in the center of the park. We've hiked most parts of the park between the two of us, and I don't see us stopping CR as our favorite destination anytime soon.
This weekend was originally going to be me joining
langutah
for some recon along Upper Muley Twist. You can see his input on the actual recon done
here
.
Jammer
was hoping for an easy way down the Waterpocket fold from the top of Upper Muley Twist.
It didn't work out for me due to a previous commitment. So I talked my wife into doing a little backpacking-leaving Saturday morning. She decided to not come, so I was able to go solo. If you've never backpacked solo, do it. The solitude and thinking done is simply incredible. This was a shorter outing, but provided some very nice insight.
I set off Saturday morning at 5:30 am. I get up about that time everyday, and the excitement was enough to get me up on a day off. I got to the Visitor Center near Torrey about 9:00. After waiting for quite a few people speak to the Ranger(s) I was able to secure my FREE permit, and be on my way. I cruised through the park at a natural and safe speed of doubling the limit. The turn off to the Notom Road came quickly, as I wove in and out of Capitol Dome, next to the Fremont River, and through the major touristy part of the park. Even that part is amazing.
The forecast didn't look perfect. Good temperatures, but high winds. Before I left
NateGeesaman
reminded me that high winds made good clouds. He knows what he's talking about when it comes to clouds and Capitol Reef.
Notom Road Gigantor Lenticular
by
slc_dan
, on Flickr
To the east on this road is a spectacular view of the Henry Mountains. Last mountain range in the lower 48 to be drawn on a map. Kicking up great clouds, as always.
Henry Stacks
by
slc_dan
, on Flickr
I had a hard time keeping my eyes on the road as I speed quickly down the Notom Road. The beauty surprises me every time. After what seamed like no time at all I was at The Post.
Looking south, the show continued.
Post South Clouds
by
slc_dan
, on Flickr
After filling my platypus 4 liter bladder with my car reserves, I threw it in my pack and was on my way. I took the route staight west and up into the Water Pocket Fold. This route cuts the beginning of the hike off, and gets you into the lower part of Lower Muley. Near the top I saw a Bighorn Sheep walking towards me, then posed up on a high ridge. I was able to switch lenses and catch a great shot.
Big Horn 2
by
slc_dan
, on Flickr
I continued up and over the fold into the deep canyon. It required a bit of route finding, but the cairns were decent enough. I did spot the arch, but just wasn't excited about it at the time. I decided to continue on. I'm sure I'll spend more time taking pictures of it another time.
I came into the canyon, and automatically it started looking great.
LMT Undercut
by
slc_dan
, on Flickr
LMT Dan
by
slc_dan
, on Flickr
LMT Fat Cottonwood
by
slc_dan
, on Flickr
As I went around a larger bend I was blasted with winds. It was some of the strongest winds I have ever experienced. I decided to turn around, and cruise back to a big undercut 500 yards back for a rest. I hoped it would calm down and I could continue later. What I found looked like a modern cowboy camp. TONS of fresh(er) cow shit, and remains of several recent camp fires. I remembered that there is still legacy rights of cattle grazing in this National Park. Can't we stop that yet?
It made for a decent resting spot. It certainly got me out of the wind for a while.
LMT Modern Cowboy Camp rest 1
by
slc_dan
, on Flickr
LMT Modern Cowboy Camp rest 3
by
slc_dan
, on Flickr
I continued on after resting for 30-40 minutes. The wind let up a bit, and I put my rain jacket on. With the billed hood I could get a good block on the wind. It was too hot to wear the damn thing though, so I took it off after not too long. Luckily most of the bad headwind was gone.
I continued through the massive canyon. The tales of massive undercuts throughout the hike are no joke. The size makes you feel very small in comparison.
LMT Under-Undercut 1
by
slc_dan
, on Flickr
LMT Under-Undercut
by
slc_dan
, on Flickr
One of the final undercuts include an old Cowboy Camp. Some inscriptions read 1921. There is a good source of water right here as well.
LMT Cowboy Glyphs
by
slc_dan
, on Flickr
LMT Cowboy Camp 1
by
slc_dan
, on Flickr
It looked to be bubbling up, so a kind of spring? I love my platypus gravity filter!!!
LMT Water refil
by
slc_dan
, on Flickr
A while later you start seeing a cut in the fold. Just the amount of time I've spent in the area let me know that this meant the end of Lower Muley was coming.
LMT ending verto
by
slc_dan
, on Flickr
A turn around the bend led east, and out of the fold.
LMT Ending
by
slc_dan
, on Flickr
It led through some great lines.
LMT Sandstone Caridiogram
by
slc_dan
, on Flickr
If one were interested in doing this loop backward, it's a bit hard to tell where the turn off is. There are 3-4 side canyons that lead west as you are hiking south. It let me to a failed attempt into the twist one trip out this last fall. I snapped some pics looking in from this route. Here they are.
Looking north coming out
LMT South end Entrance-Exit 2
by
slc_dan
, on Flickr
West looking into the fold-the Entrance/My exit.
LMT South end Entrance-Exit 1
by
slc_dan
, on Flickr
I headed back north a few more miles in search of a good spot to camp. I've often heard people say that this part of the walk down Grand Gulch is less interesting than the massive Twist canyon. I disagree wholeheartedly.
LMT Grand Gulch Return south
by
slc_dan
, on Flickr
You can see a little dust storm in this pic
LMT Grand Gulch return 4
by
slc_dan
, on Flickr
Some nice Cactus flowers.
LMT Cactus Flowers
by
slc_dan
, on Flickr
The sun was setting, so I found a spot up on some redrocks in the middle of Grand Gulch, and hunkered down. I sipped on some High West Campfire whiskey, and made a freeze-dried meal. I didn't stay up real late due to the early morning, and the fast pace I had been keeping all day. It was a fairly early bed time. I was woken up by high winds a few times, but I just buried my head into my pack sitting close to my head and let it pass. I was able to stare up at the stars when I was awake, and always fell back asleep quickly.
LMT camp
by
slc_dan
, on Flickr
LMT stars 1
by
slc_dan
, on Flickr
LMT night
by
slc_dan
, on Flickr
I awoke to a beautiful sunrise, and no more wind.
LMT Good Morning
by
slc_dan
, on Flickr
I hiked the last 4 miles or so very quickly, and reunited with my 2001 Civic. I made it to my car at 9AM. I decided to drive through Boulder. I've been to CR about a dozen time, and I'd never driven through Boulder. What a beautiful drive. The speed limits were again-often doubled for most of the drive.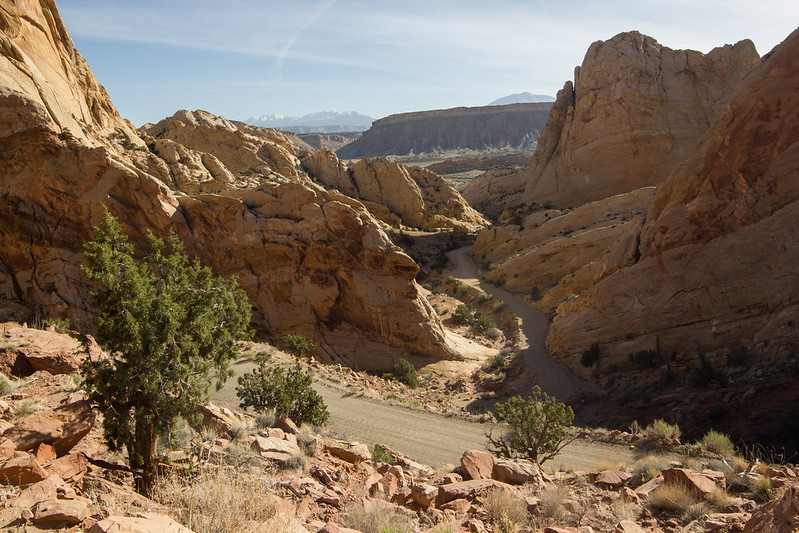 LMT Burr Trail Switchbacks
by
slc_dan
, on Flickr
It added about an hour to my drive. Between the views and Hell's Backbone breakfast it was definitely worth it. The chili-migas were great.
I stopped once more in Scipio to gas up, and I was back in SLC by about 2:30.
Featured image for home page: