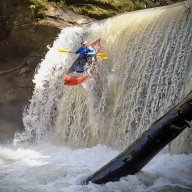 Joined

May 3, 2013
Messages

560
PART 1. Fiftymile Creek deserves its own post in Part 2.
This trip almost didn't happen. I already booked a week long trip in September with the Wilderness Volunteers in Dark Canyon doing an archaeological inventory, should I make 2 trips to Utah in one year? Hell why not, I'm currently funemployed, yoga teacher training isn't for another month and I have the itch...the canyon country itch. It never goes away but you can manage it, so I did just that by making a dream trip come true.
I was on a mission. Connecting Willow Gulch, Davis Gulch and Fiftymile Creek via backpack and packraft. My original plan was down Willow, paddle to Davis, out Davis to Fiftymile and then paddle back over to Willow. Then I discovered Fiftymile Creek and threw the plans out the window. I spent 2 nights in there, just taking it all in, slowing it all down. It was worth the 4 mile road hike back to the trailhead, and I got to complete the loop.
These lower canyons are coming back. What a delight it is to see this happening! Sure, the lower section transition areas look like battle zones, but Mother Nature is the boss out here. I know it won't be in my lifetime, but these canyons will be back in their full glory. I got a glimpse, and I could only imagine what else lies beneath. The Escalante country is a very special place.
Thanks to
@Nick
and
@mattvogt7
for the inspiration and reports.
"
What really needs changing is us—not the canyons, not the legal status or accessibility, but us. With so many people in Mother Earth's face, knocking on her door, getting into her drawers, our children will miss the opportunity to wonder and be amazed at the magic in canyons and far flung desert trails; of a black night sky dense with stars; of mountain vistas uncluttered by humans. The more we insist upon multiplying, the fewer our sanctuaries become.
Glen Canyon was one of those sanctuaries. I was there. I know.
It should become one again
."
Katie Lee, 2004
The route. Hiking in red, paddling in blue
Lots of day hikers doing the 40 mile/Willow loop. 7 cars at the TH. I didn't see anyone until lower Willow, a group of 3 were finishing up a 13 day trip on the Escalante.
Willow Gulch is stunning. All 3 of these canyons had unique personalities.
Broken Bow Arch. I kept going past the alcove, wanting to get as close to the lake as I could. Tomorrow was 9 miles of flatwater paddling.
Willow
Huge alcoves are a common theme down here
Alcove Columbine
More Willow Gulch goodness
Just below full pool, this gem was a pleasant surprise
What lake? Well below full pool.
Maybe 50-60' below full pool
Eventually you enter the battle zone, man vs. nature. Eroding silt banks, braided channels and bleached walls tell the story.
Finally reached the lake. I would recommend camping upstream, it was challenging to get water without a lot of silt but the alcoves were nice.
End of day 1. Quite a contrast.
Lower Willow, near the lake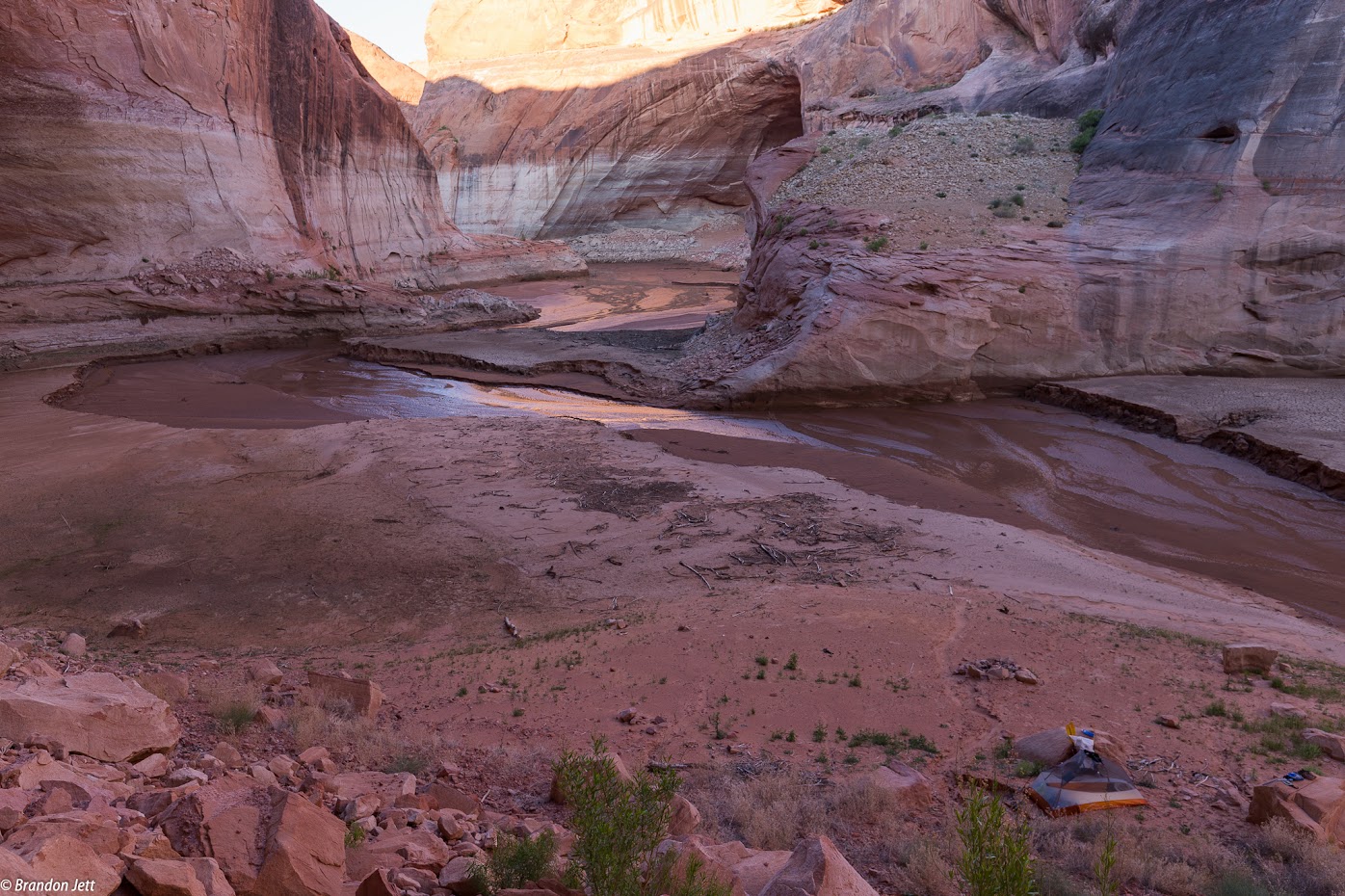 The next morning I got an early start, I'm not used to paddling this much flatwater and I wanted to beat the boater traffic. On to Davis Gulch...
I passed 2 guys that were ahead of me in Willow the day before, they had camped on the lake and had some cheap lightweight inflatables. They were on their way to Fiftymile, I kept going to Davis...which apparently may have been a mistake. I ran into these guys in Fitymile and they said I missed the cold beer and bikini-clad ladies from Boulder, CO. They had a houseboat up Fiftymile. I dubbed this Pee Break Island...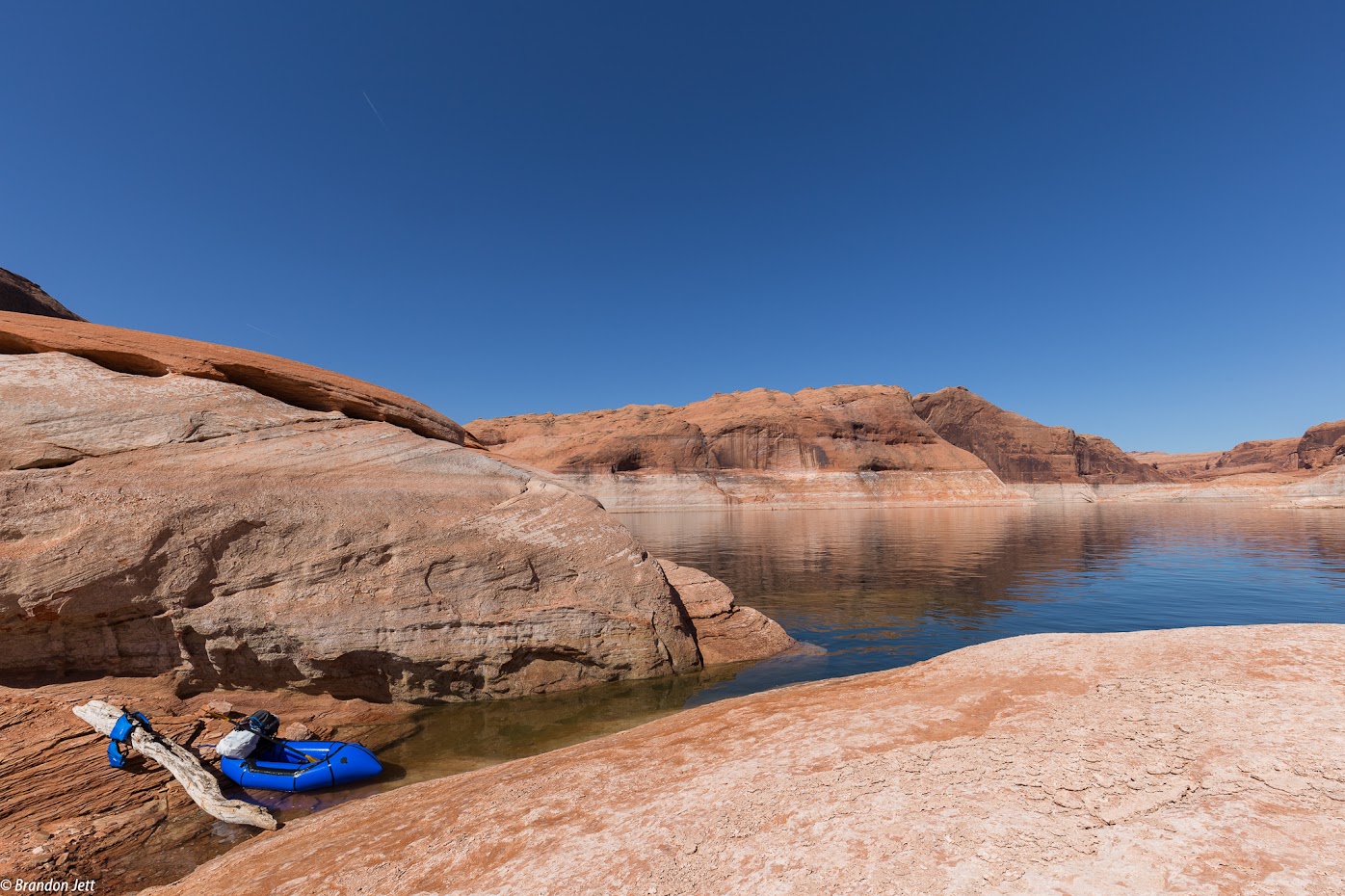 Mouth of Davis Gulch in the distance
Davis Gulch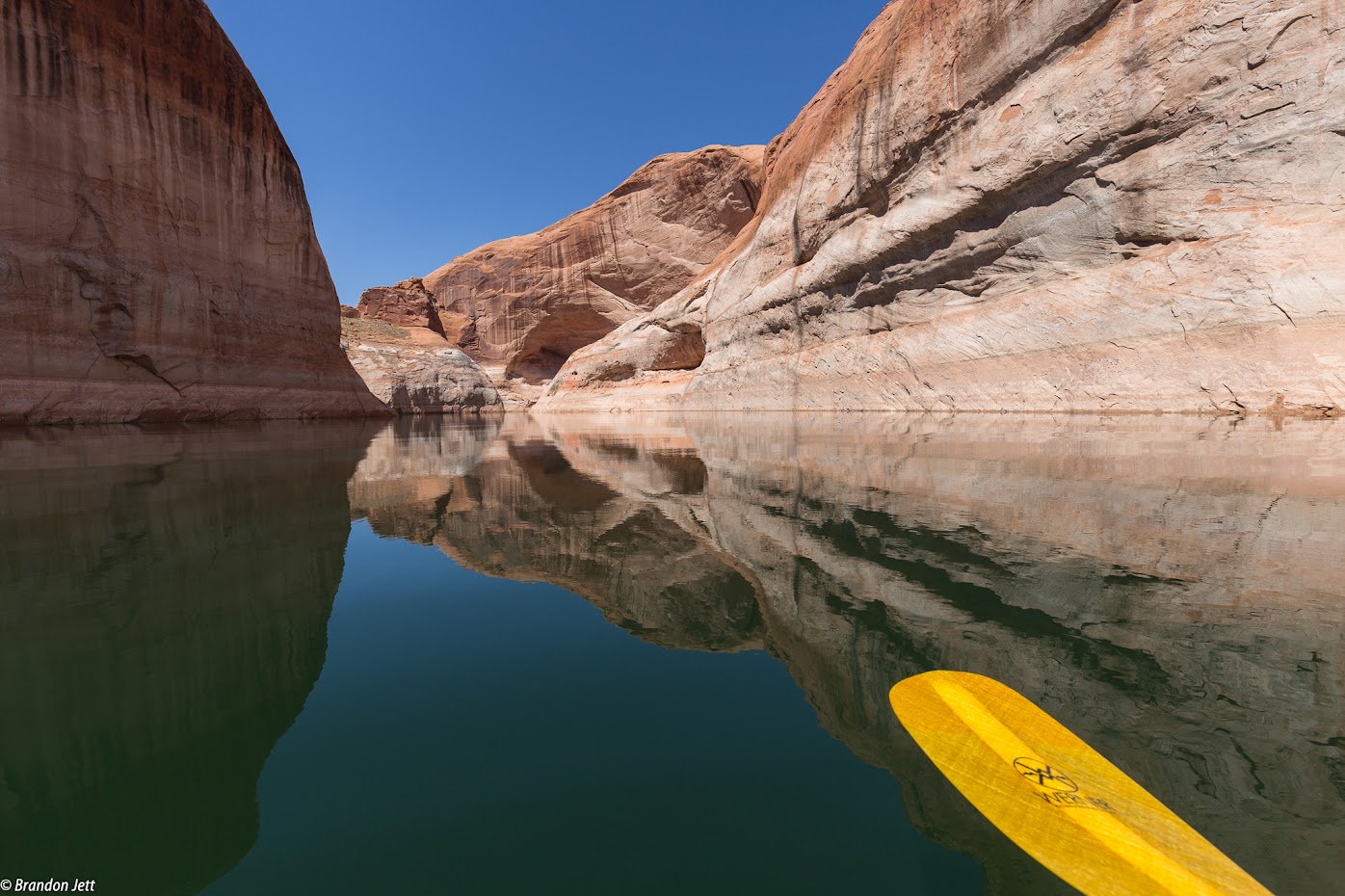 La Gorce Arch is the end of the paddling. A group of guided kayakers caught up to me in Davis, they were a melting pot of older folks from all over. Cool crew, enjoyed chatting with them.
La Gorce Arch. The lake at full pool splits the arch in half.
Take that Lake Powell!
Lower Davis Gulch, breathing in new life
Beautiful pool and waterfall in Lower Davis Gulch, well below full pool
Massive alcoves!
Another uncovered beauty
Paintbrush in lower Davis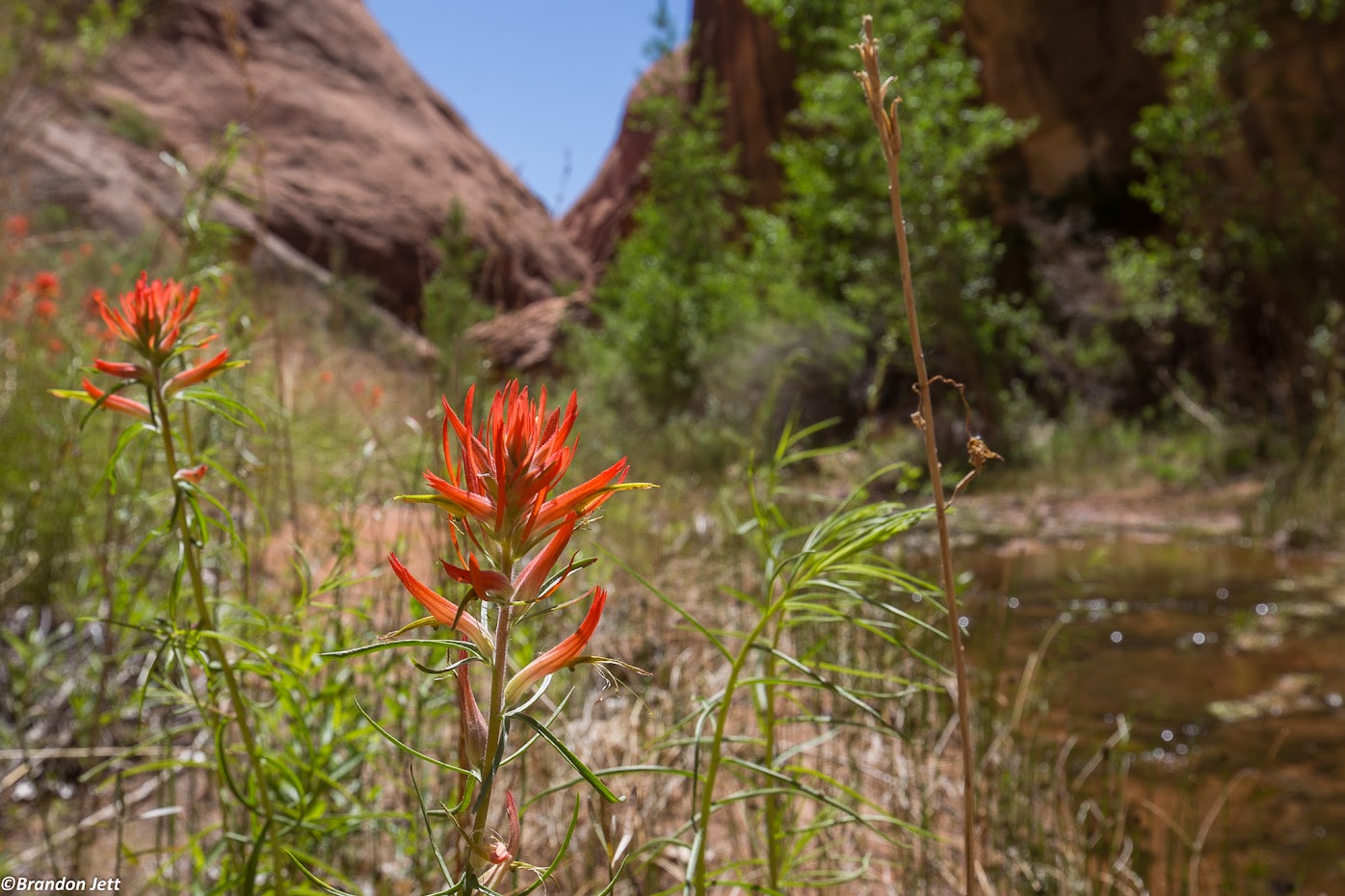 Petroglyphs in Davis Gulch, near the old cattle trail
E Ruess camp. The last known camp of Everett Ruess.
The stock trail exit/entry in Davis
My dinner companion
Davis Gulch took my sunglasses. First Everett Ruess, then my shades. Be careful in here, this place is sketchy.
On top of that, as I was getting water near my camp in Davis I heard voices. It was late afternoon, the last thing I expected was visitors...sure enough, 2 young women were working their way down the cattle trail into Davis. They seemed to have no interest in anything other than a tick list, in and out early the next morning. One thing about Davis Gulch is that its pretty narrow and voices carry...especially 3 hours of non stop talking. Davis Gulch tried to steal my swagger but I wouldn't let it. A night of little sleep, cold chills and slightly feverish left me groggy the next day but once I was out and traipsing overland to Fiftymile I bounced back quickly.
Next up, Davis Gulch to Fiftymile Creek
Last edited: