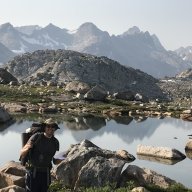 Joined

Mar 1, 2015
Messages

528
I am hoping to do the Boulder-Mail-Trail/Lower-Death-Hollow route (BMT to HWY 12 bridge) next week (a few days after Memorial Day) and have a few last-minute planning questions:

1. We will be spending a night or two in Death Hollow, so I'm worried about flash floods. What websites/locations would you check before doing a trip like this? I was planning on checking weather.gov ("Death Hollow") before leaving on the trip, just like I do before any backpacking trip, but if there are any other websites or locations (how far upstream, etc.) that you would recommend, please let me know. I know in general I should avoid canyons like this when there is rain in the forecast, but what percent chance of rain would you use as a cutoff in making the go/no-go decision? This is my first time planning a backpacking trip in an area with real flash flood danger, so any tips are greatly appreciated.

2. Is it recommended/required to carry out your waste in Death Hollow? I don't have a feel for if there are adequate spots of land far enough away from the water to properly bury your waste when going through Death Hollow. I'm assuming that one can dig a good enough hole on the other stretches (the BMT and along the Escalante). I was planning on bringing about 1 wag bag per person, but would love to leave them at home if they're not needed.

3. If anyone has been there recently and can report on the water level, please let me know. I'm planning on roughly knee-deep water, but if it's much worse, I may bail, since I'll be taking my 11-year-old son. I know the water isn't usually too deep down there, but with all the snow this year I was hoping to hear if anyone has been down there recently.

4. Are the bugs (mosquitos? gnats? biting flies? no-see-ums?) getting bad down there yet? If so, if anyone has any recommended campsite locations down there to avoid the bugs, please let me know!

5. Speaking of campsites, if anyone has any recommendations of where we can camp near the trailhead the night before the trip (1-2 small tents) please let me know. My understanding is that you can't camp at the trailhead itself?

6. We will be doing a bike shuttle so that we can do the point-to-point route with a single vehicle. I would normally prefer doing the bike ride before starting the hike, to avoid the uphill bike ride during the heat of the afternoon on the last day. However, if I think one of us could likely hitch a ride from the HWY 12 bridge back to the BMT trailhead, I will just keep the bike at the end of the route and try to hitch a ride back to the car. So my question is, what are my chances of successfully hitching a ride there on a Saturday afternoon? I have no idea how busy that road gets.

Thanks in advance for any feedback!