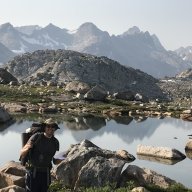 Joined

Mar 1, 2015
Messages

529
Hello all, I am considering a backpacking trip (3 or 4 days) in Lower Death Hollow (BMT to Hwy 12) in mid-April (a few weeks away now!). I have some questions:

1. Is the poison ivy completely avoidable if we plan on walking in the river the entire time? We will wear long pants as well. Any other tips for dealing with the poison ivy?

2. Any idea how high the water level is currently? Is the river walking any harder than, say, the Zion Narrows? (We've done the top-down version of that twice). I'm hoping the water level is lower than normal years (since it's been such a dry winter), so that we can walk in the river the entire time (and thus avoid the poison ivy) and not be too cold.

3. I've never planned a multi-day trip in a place with flash flood potential. I plan on checking the weather forecast for the area; any particular tips on how to check? (any preferred websites or tips?)

4. Should we bring neoprene socks? I was thinking some thin neoprene socks with some old tennis shoes or trail runners?

5. How hard is the crux of the route? (I've seen pictures of the "crux" in the narrows; I hope you know what I'm referring to) I was planning on just putting my clothes and sleeping bag in plastic bags (trash compactor bags, large ziploc bags, etc), but if special drybags are recommended for this route, please let me know.

6. Should I expect the bugs to be bad in mid-April?

7. I'm thinking of spending 3 days for this trip (starting at Boulder Mail Trail/airstrip and ending at HWY 12 Bridge), with a 4th day in Capitol Reef on our way out. But I may just make it a 4-day Death Hollow trip if there are sufficient side trips of interest.
- I thought it could be fun to dayhike upstream from our 1st camp (which I assume will be somewhat near where the Boulder Mail Trail drops down into Death Hollow). I haven't read anything about that area---is it scenic? Is it difficult?
- I am considering the possible side trip to the Mamie Natural Bridge. I've read that you can get to the bridge from the Boulder Mail Trail; can you also get to it from lower down in Death Hollow (by following Mamie Creek up from Death Hollow?). If so, I think it would be fun to tack on an extra day to the trip and do that loop as a dayhike.
- any other side trip recommendations?

8. Any general tips on which sections the best campsites are in? We will either do the trip from Sun-Tues, Mon-Wed, or Sun-Wed., so I'm hoping with those dates we won't be competing with too many other people for the prime campsites.

Thanks in advance for any feedback!