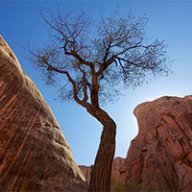 Joined

Aug 9, 2007
Messages

12,940
With all the snow that has been falling, I decided today was a good day to break out my poor, neglected snowshoes and get out and do a little exploring. I've kind of been absent from snow-based recreation the last couple of years due to injury and a general preference for the desert, so this was a fun change. It's something I plan to do a lot more of. The hike for today was to the lower reservoir in Bell Canyon, just south of Little Cottonwood Canyon.
With all the fresh snow, I thought for sure it would be snowshoe-worthy, but the trail was nicely packed so I took them off pretty quick and put them on my backpack in case they were needed later (they weren't). It was pretty brisk out (in the teens), but it felt fantastic to be out. The air was crisp and clean and the skies were just amazing with cool clouds blowing through the frosted trees and peaks all afternoon.
Climbing the switchbacks near the trailhead on 9600 South.
Fluffy goodness
I quite like the look of the scrub oak without their leaves in the winter time. Much better than late fall when it's all just dead.
Temps were in the teens but the sun was still doing a good job of building up ice on the rocks.
Lower Bell Canyon Reservoir almost completely iced over.
There were some geese or something out in the tiny bit of open water left. Shouldn't they all be south by now? I went to Wheeler Farm yesterday and it was a similar situation there. The ponds were almost all frozen over but there were probably hundreds of geese and ducks still hanging out in the tiny bit that was still wet. Anyone familiar with migratory birds know what that's all about? Are they just running late?
The mountains were all still nicely frosted
The awesome clouds continued on the hike out but they seemed to start clumping to the peaks.
Featured image for home page: