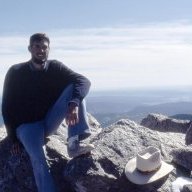 Joined

Feb 1, 2014
Messages

412
It's been hard for me to get out this year. I used up all of my vacation time on other pursuits and I realized that the only way this was going to happen was over a long weekend like Labor Day or Thanksgiving weekends. Thanksgiving is always pretty iffy because of weather and family stuff so I decided to make it happen over Labor Day weekend. I've had my sights set on eventually doing a loop in the Cloud Peak Wilderness in Wyoming that involved going off trail over the mountain tops from Lost Twin Lakes to 7 Brothers Lakes and so I decided to do an over-nighter to Lost Twin Lakes to survey how things looked going off trail there. Plus, I had seen photos that made Lost Twin Lakes look like a great destination on it's own. Two weeks before I was to leave I ran into a friend I had done some backpacking with off and on over the last 20 years and he said he wanted to go too, so the trip was on. My experience with Labor Day trips is that there are always crowds and this was no different. The parking lot at the trail head was so packed we had trouble finding a legal place to park. Probably on most other weekends during the year it wouldn't be too bad.
My phone app indicated that the distance one way was 7.0 miles, but that included a fair amount of wandering around trying to find a camping spot that was away from other campers. The trail head is at 9100 ft and the Lost Twin Lakes are at 10300 ft. That's only 1200 ft elevation gain but it felt like more than that. When I was younger that wouldn't have been a big deal but now that I'm in my mid 60's it's getting to where everything is a challenge.
Since this was an up and back I'll give photos in one direction only.
This waterfall was pretty early on.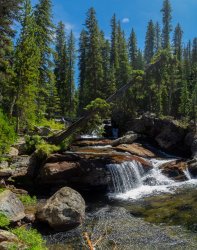 View from a break in the trees.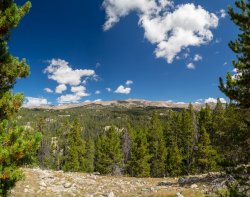 Mirror Lake can just be seen through the trees. Surprisingly the trail did not go to it. We ran into several people who had intended to go to Mirror Lake but had missed it.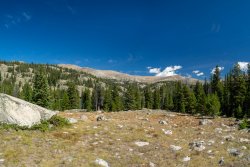 Mirror Lake. Not a mirror on this day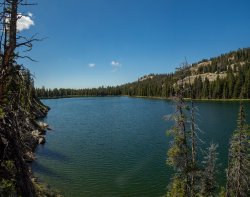 I like butterflies. Last year I went to the Winds in July. Lots of flowers and hardly any butterflies. On this trip there weren't a lot of flowers left but there were lots of butterflies. Taking butterfly photos was a good excuse to stop hiking.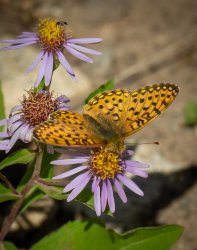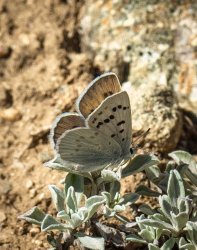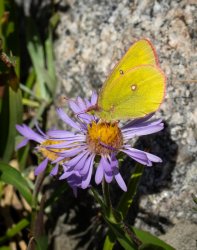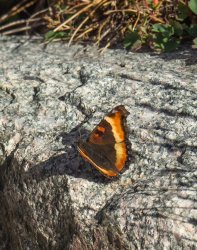 Back on the trail. Starting to get into the high country.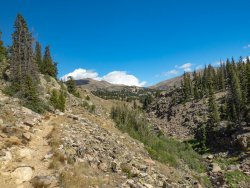 The trail occasionally skirted close to the creek. I was surprised by seeing Moose. I think we saw 4 different ones along the way. This cow had a calf with her and we saw them both coming and going. She ignored us completely both times. Even so, we went off trail a ways to get around her.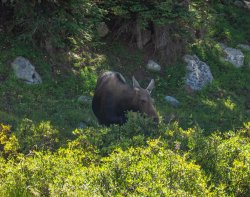 Another trail side view.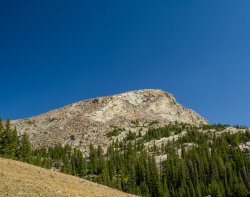 Our destination coming into view.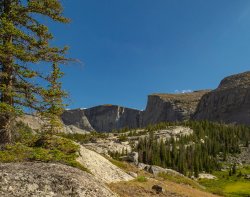 First view of the lakes.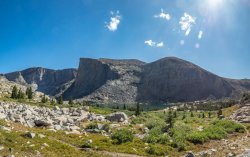 View from the lower lake. Someone can be seen fishing on the right margin of the photo. Everyone we talked to said that they had caught fish. One person said that the fishing was better at the upper lake - probably because it's harder to get to and mostly people don't camp there.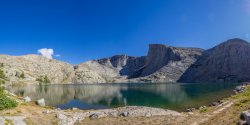 View from our camp site.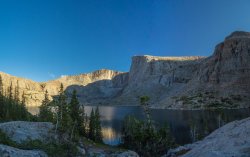 Sunset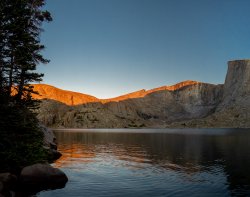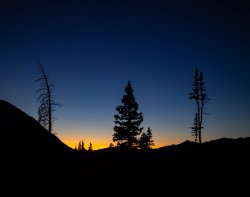 I've been experimenting with trying to get a good milky way photo. This is a composite of a panorama taken about an hour after sunset for the foreground and a panorama taken about 4 hours after sunset for the stars. The stars photo was made of multiple shots and stacked to reduce noise.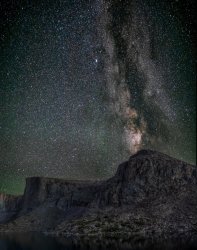 Morning comes.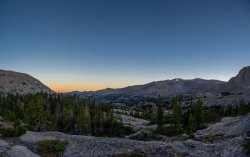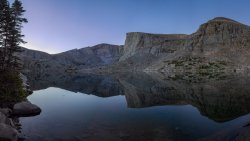 My friend near our camp.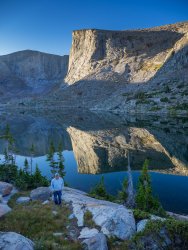 We decided to go over to the upper lake on our way back out. You have climb up a ways to get over to the upper lake. This is a panorama showing both lakes from the pass over to the upper lake.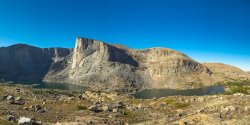 Heading down to the upper lake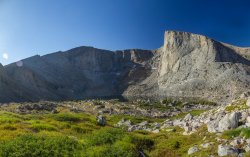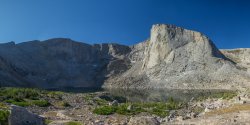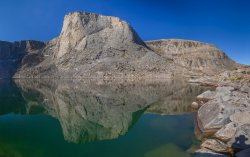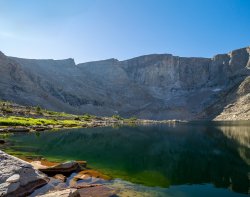 Thanks for looking.
Last edited: