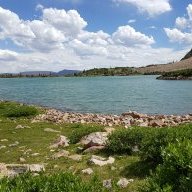 Joined

Aug 8, 2016
Messages

2,071
All spring and summer this year I've been trying to find a way to get back into the heart of the Uinta Mountains. My wife and I came up with the idea of several short multi-day trips in August and September that I hoped would get me there. A through hike of the Highline Trail was out of the question as I could not justify being away from home that long at a time. Also the logistics of entry and exit are a nightmare without multiple vehicles and lots of highway time. Searching for looping opportunities requiring three to four days at a time seemed to be the ticket. This would allow me to see some new country and to revisit places along the Highline Trail. That's what I have planned and have begun executing. This is the first in my series I'm calling Looping the Highline.
Here is my route for Episode One.
Here is a video of my trip. Hope you enjoy it, otherwise read on.
This would be my first multi-day solo backpacking trip. I was anxious as I did not know how I would do by myself. Turns out being alone was the last thing on my mind and I totally loved it.
My trip would begin at Spirit Lake. Spirit Lake sits at 10,200 feet so it seemed like a good place to start, keeping the climb to a minimum. My route would take me along the Browne-Spirit Trail crossing the South Fork Sheep Creek drainage. Many beautiful parks along the way.
Beautiful streams.
Refreshing springs.
After a nice break for brunch along a nice creek I continued on to join up with the Whiterocks Trail up and over the crest of the Uintas. This trail is referred to as the Deadman High Ridge Trail on older maps. Upon reaching the trail sign all blazes and cairns disappear. No foot paths appear until reaching the base of the final climb. Once reaching what looked like what would be the pass I was surprised to discover I would basically be going straight up and over the mountain to the right.
From part way up the mountain a view of Anson Lake.
Looking to the east I could see Flaming Gorge Reservoir and beyond.
The final grind to the top was via a maze of switch backs through rocks. Quite a climb.
On top Whiterocks Reservior came into view.
From here on down to the Highline Trail would be a miserable crossing of many rock fields. There was no trail. Occasional cairns on the upper half but nothing beyond. Once on the Highline I could relax a bit and cruise along a relatively level section to Whiterocks Reservoir and beyond. I had hoped to have made it to Chepeta Lake to make camp for the night but decided to stop somewhere in between. Turned out to be a beautiful location with a nice flat spot on a rise to pitch the tent.
The view from camp was very tranquil.
Even had a visitor.
Day 2
Packed up camp and was on my way to Chepeta Lake by about 8:00am. Once in the area I had to cross the Whiterocks River which was not a rock hopping exercise. I was determined to keep dry feet on this trip so I bare footed it across and soon arrived at the Chepeta Trail Head.
Continuing on I came to the eastern-most of the Reader Lakes.
I recalled coming by here in 2016 with my brother and seeing a cow moose and her two calves here. We actually got really close to her calves on the south end of the lake while mom continued eating at the other end. It was a pretty cool encounter. Wouldn't you know as I shot this picture I noticed a cow on the other side of the lake in almost the same spot! She was alarmed and quickly made her way out of the lake and up into the trees. I managed a quick, grainy shot with the long lens before she got away.
Sure made me wonder if that was the same cow or perhaps one of her offspring. Pretty cool.
Continuing on I arrived at one of my favorite streams. I call it Reader Creek but I don't think that's its official name. I just find it incredibly photogenic.
I took my lunch at Reader Creek then got back on the trail. Now begins the hard part of the day. The long climb up and over North Pole Pass just coming into view.
Climbing up I could see Taylor Lake off to the south.
Looking back from where I stopped at a favorite watering hole.
The flowers were enjoying the spring water as much as I did!
As I crossed the high point of North Pole Pass I entered the High Uinta Wilderness Area. Soon my destination for the day came into view.
Clockwise starting at three o'clock: Fox Lake, Brook Lake and Crescent Lake.
I made camp just north of Fox Lake along a beautiful creek.
Day Three
Today I would leave the Highline Trail and head back over the crest via the Divide Trail.
Passing by Fox Lake before hitting the trail junction. Off in the distance is impressive Mt Emmons, one of the members of the Kings-Emmons ridge line.
Shortly after leaving the Highline I quickly lost the trail. It took me 15-20 minutes to find it again. It's like it was there then it wasn't. Very odd. From here it was a pretty good climb up to the pass. Along the way I stopped to filter some fine water flowing down from Divide Lake.
A stunning view of Divide Lake. More of Mt Emmons, Mt Roberts and Trail Rider Peak.
A beautiful tarn right at the pass. Its amazing the places you can find water in these mountains.
Now begins the descent to Island Lake. The creek along the way slowed me down quite a bit as I had to stop to admire all the beautiful views.
Island Lake comes in to view.
Arriving at Island Lake.
Its interesting to note this is one of multiple lakes in the Uintas with the name Island Lake. In my video I mentioned Island Lake along the Lakes Country Trail along the Mirror Lake Highway. Since then I have run across yet another lake with the same name.
From here things got really interesting. Once across the western shore and back into the trees the trail completely disappeared. It was difficult crossing with much dead fall on a slope for about 1/2 mile. Finally found a major creek feeding the lake on the left hand side and lo and behold a trail appeared. Time for lunch in the cool shade. Beautiful flowers everywhere.
From left to right, Taylor Peak, East Burnt Fork and West Burnt Fork Peaks. North Pole Pass is just behind East Burnt Fork Peak.
Now that I found the trail it was just a mater of miles. I would cross many parks and climb one of the steepest trails I've ever been on in the Uintas. One park, Mc Coy Park, was huge and I felt like I was chasing cairns for miles.
Last point of interest while approaching the terminus was Tamarack Lake.
It was a great trip. 44 GPS miles, crossing three major passes. Looking forward to episode two!
Last edited: