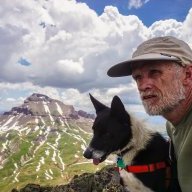 Joined

Mar 6, 2014
Messages

567
We started on the east side near the Burr Trail, crossed Hall's Creek and the Fold, then completed a route including among others Stevens, Fold, Prima, Donna and Georges Camp canyons before re-climbing the Fold further north. Once up there we traversed the spine south over Cliff and Hall before finding a complex route down and back to the car.
Six days and 70 some miles. Saw no other people car to car. Due to exceptional conditions following large flash floods we had plenty of water and unseasonably cold weather down to 18F or so.
There were some tricky drops and canyon exits, but nothing too bad. Navigation was challenging with full attention turned on most of the time.