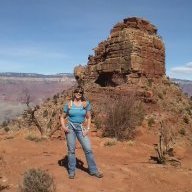 Joined

Oct 1, 2012
Messages

960
Okay, it's times like these (end of the year) that I start thinking about not working. I'm lucky enough to have an early retirement option at my job and my boyfriend and I have always wanted to retire in a town like the fictional Cicely, Alaska of "Northern Exposure" (if you don't remember that show, I feel really, really sorry for you!) Anyway, I have 8 1/2 years to find that perfect little quirky mountain town. The real town that show was based on is Talkeetna, Alaska but I've been there and it's really touristy now, plus Alaska winters are too severe. So where is the next closest thing? I think I'll find it in the four corners somewhere. I'm looking for someplace small, outdoorsy, and quirky (you know, where people are tolerant of each other, lots of interesting, out of the box people live there).

So far here are the suggestions I've gotten either from personal experience or friends:

Springdale, UT (my friend that lives there assures me it's really quirky).
Moab, UT
Flagstaff, AZ
Torrey, UT

I've heard Cortez, CO is awesome but have never been there.

Ruled out: Escalante, UT, Cedar City, UT.

What do you guys think??