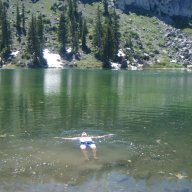 Joined

Apr 27, 2016
Messages

483
I have been snowshoeing for a few years now and I have been using some generic, baggy snow pants. I lost some weight and they no longer fit all that well and I really just hate how baggy they are. Even before I lost the weight they would rub together when I was moving making that annoying swishing sound.

I am looking for suggestions in a softshell pant for someone that is short. My inseam is a 30" on my tall days. I ordered some used Rab Exodus pants from ebay for a good price, but I am pretty sure they are going to be longer than I'm looking for, but for the price I paid I might just try my hand at hemming them and then hitting the hem with some waterproof seam tape.

Anyways, just wondering what some of you guys use when you go out snowshoeing.