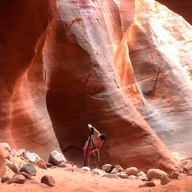 Joined

Aug 17, 2015
Messages

60
A buddy and me are in the inception stage of planning out a short 2-3 night backpacking trip somewhere in the Escalante area early spring and are looking for suggestions.

The current leading idea is taking our time through the wolverine-little death hollow area but am open to suggestions. Also considering going down to explore the neon canyon area, or coyote gulch. A little worried about the latter being crowded. Curious of the risk of flash flooding in the early spring as well.

It would also be good to know if anyone knows if bringing a medium sized dog (35lbs) down there would be worth the challenge/hassle.

If you guys have any thoughts or recommendations I would really appreciate it, Thanks!