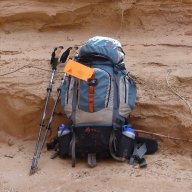 Joined

Jan 7, 2018
Messages

3
I am currently planning on a three-night trip to the Maze District of Canyonlands NP in April 2019. I am planning to use Tex's to drop me off at Spanish Bottom and hike up to the Dollhouse, and then have them pick me back up a few days later.

My major question is whether I can, practically speaking, set up camp the first night (maybe at Chimney Rock), and then leave most of my stuff there for and do trips the second and third day with a daypack. And then come back and sleep there each night.

For the record, my second and third day would be some subset of
1. Maze overlook / Harvest Scene
2. Chocolate drops
3. Water/Shot
4. Ernie's country
Depending on how much time/energy I have.