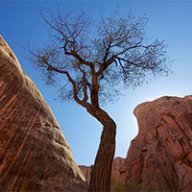 Joined

Aug 9, 2007
Messages

12,940
For years I've been thinking how much I want to backpack in places beyond my usual circle of travel. It seems like anything beyond 6 hours or so just gets pushed off and pushed off. This morning I decided I'm never going to get to any of these places unless I get off my ass and make a plan to do it. So I'm going to dedicate a full week off work every year (9 days to work with), in which I leave my comfort zone and head out to some of these more distant places. Maybe I drive, maybe I fly. Maybe I hit more than one on a trip or go all the way out just to experience that one place. It doesn't matter.

What I need now is to start my new list of places so I can start researching and making plans. I'd love any suggestions on specific areas, trails, routes, etc. I know there are so many places out there that I don't even realize exist. Here are some of my very vague ideas on places I want to hit. I figure I'll be solo for most of this stuff but that's okay.

The Absoraka/Beartooth Wilderness
Olympic National Park
Glacier National Park
The Sierra-Nevada Range/JMT
The Canadian Rockies

What else? I'm not too interested in anything out east.