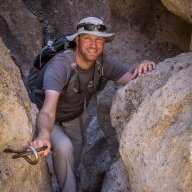 Joined

Jan 17, 2012
Messages

3,469
Friday – Sunday, August 5-7, 2016
The imposing view of Lone Eagle Peak over Mirror Lake in the Indian Peaks Wilderness.
After spending the past few weeks and weekends in
Illinois
,
Wisconsin
and
Salt Lake City
, it was finally time for another backpacking trip in the mountains of Colorado. The Lone Eagle Cirque has been on my radar for a long time and earlier this year I finally decided to secure a camping permit at Crater Lake for this weekend. Who knew that this would be a weekend full of heavy rain, storms and low clouds? We went anyway with hopes for the best and maybe even a nice sunset…
We left right after work on Friday and started our four-hour drive to the shores of Lake Granby on the west side of the Front Range. Since I'm not very familiar with this area and we would be arriving after sunset, I didn't want to try to find a dispersed campsite in the dark, so I had reserved a spot in the Arapaho Bay Campground for Friday night. While this isn't my favorite kind of camping, it made things a lot easier for us and worked out well enough. A pair of ear plugs helped! We arrived at the campground at dusk and got our tent setup before it was too dark to see and went right to bed so we could get an early start on Saturday morning.
We woke up around 6am on Saturday morning to an overcast sky and we didn't receive any of the rain that had been predicted overnight. We had a quick breakfast, packed up camp, and drove another mile to the Monarch Lake Trailhead so we could begin our hike up towards the Continental Divide. Low clouds clung to the mountain tops and the humidity was high this morning. We were a little worried that we might get soaked during the hike or might not be able to see the mountains in the cirque today, but we started up the trail and took our chances.
The mileage to Crater Lake from the Monarch Lake Trailhead on the Cascade Creek Trail.
Diane hikes ahead of me as we follow Monarch Lake at the beginning of the trail with an ominous sky above.
After about a mile we reached the boundary of the Indian Peaks Wilderness area.
Crossing a bridge over Buchanan Creek.
The floor of the forest was very green.
Cascade Falls was a nice set of waterfalls along the trail. This is the lower portion of the falls.
There were still some nice wildflowers along the trail.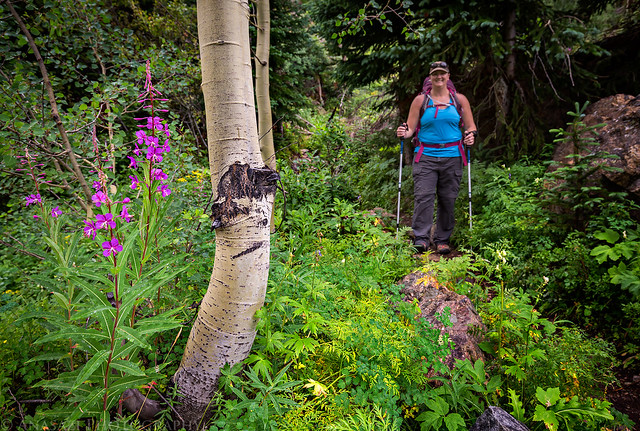 The upper waterfall that makes up Cascade Falls.
Low clouds were hanging around all morning, and they got closer the higher we climbed…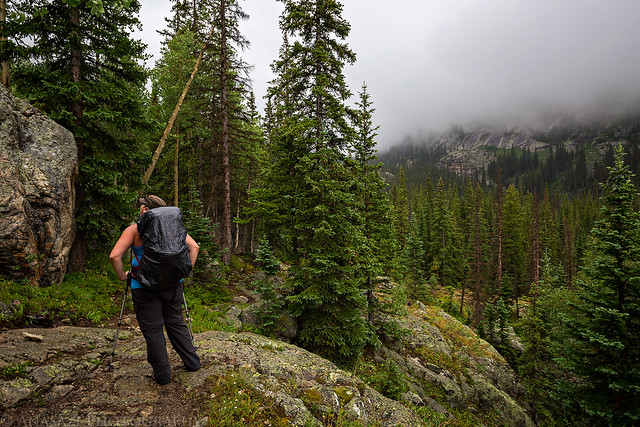 Lone Eagle Peak was hidden in the clouds when we first arrived at Mirror Lake. I was a little worried that we might not see it all day!
We setup camp in site #4 next to Mirror Lake. After checking out the other sites, we both agreed that this one was probably the best, especially since I wanted to photograph sunset and sunrise at Mirror Lake.
This marmot visited our camp for a little while. Thankfully, it never chewed on any of our gear.
After resting in camp for a little while and avoiding a few rain showers, we finished hiking up to Crater Lake to check it out and the other campsites along the way.
It was very green near the end of the trail at Crater Lake.
There was a nice view from inside this old cabin above the shore of Crater Lake.
When we arrived back at Mirror Lake the sun actually came out!
The clouds started to clear out over the ridge above camp.
I lucked out and had nice conditions to photograph Lone Eagle Peak reflecting in Mirror Lake this evening.
Lone Eagle Peak towers above Mirror Lake near our campsite.
Unfortunately, heavy clouds moved back in before sunset, but I did get a faint red light on the tops of a few of the peaks before the sky was completely overcast again.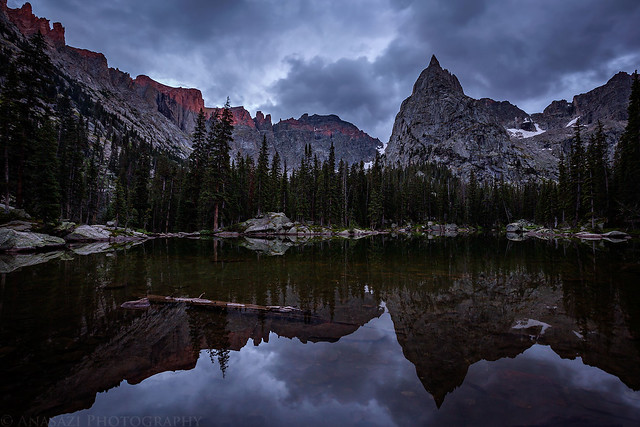 After the sun had set it was time to get to bed since it had been a pretty long day for us. Shortly after getting into the tent and trying to get to sleep it started to rain again which seemed to last for a little while. I woke up early on Sunday morning to photograph the sunrise and found a completely clear sky above. When the sun was finally out it was time to break down camp and start hiking back down to the trailhead.
This shot was taken about 20 minutes before sunrise in the soft dawn light.
Following Cascade Creek back down from the cirque.
Diane hikes through a cool narrow passage on our way back down.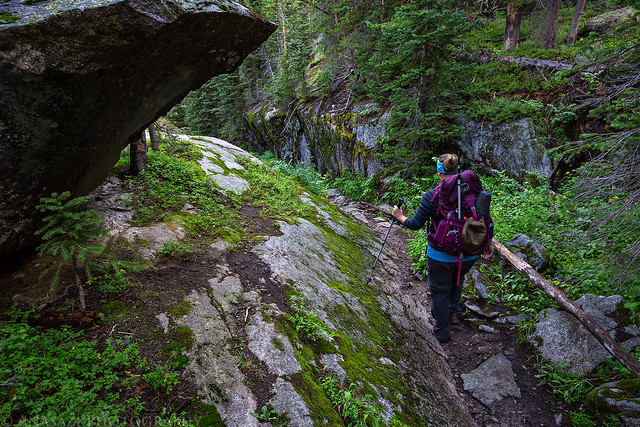 A small cascade along the trail.
We hiked the rest of the way back down in the sun, which would be a first for the weekend.
>>
Lone Eagle Cirque Photo Gallery
>>
The Original Trip Report on ADVENTR.CO