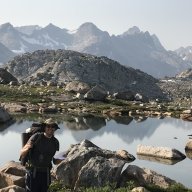 Joined

Mar 1, 2015
Messages

493
I will be camping at Goblin Valley with my family this upcoming weekend and was really hoping to hike Little Wild Horse Canyon (along with Bell Canyon, probably). This would be just my 2nd slot canyon, so I'm very excited. I have some novice questions about water in the canyon:

1. Should I expect water in these canyons? If so, how deep? And will the deep parts just be occasional, or will they maybe be consistent? Normally I don't think I'd mind some occasional chest-deep water sections if it were during the heat of the day. But on this trip, if there is water at all, I would probably leave the wife/kids behind, in which case I would need to do it early in the morning. So if there's a lot of deep water I would worry about it being miserable/dangerous. Anyway, if anyone has a feel for the current conditions, please let me know.

2. Also please let me know if you have any input regarding what to wear/bring; I was just planning on wearing an old pair of sneakers and bringing some dry clothes (including several pairs of wool socks) to change into if/when I get too cold. But let me know if I'm an idiot and if a wetsuit or other such gear is needed.

3. Flash floods? I'll keep my eye on the weather forecasts for the general area... if it continues to be sunny with no rain, does that mean I'm good to go? I'll also ask the Goblin Valley folks. Please let me know if there are other precautions I should take. For some reason I am more worried about the freezing pools of water than I am about flash flood danger on this particular trip.

4. Or if anyone has any recommendations for any other non-technical slot canyons in the area that may be more dry, please let me know! If it's really close to Goblin Valley, it doesn't have to be kid-friendly, as I could go solo (but it still needs to be non-technical); or, if there's a family-friendly option on the way back to Denver, that would also be great---that way we could all stop and do it on our way home.

Thanks in advance for any help!