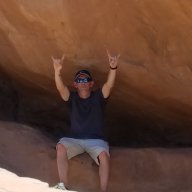 Joined

Jul 8, 2015
Messages

250
Since moving to Utah a few months ago we have seen and done a lot, however something big was missing for me. I have been day dreaming of getting into some narrows after reading a lot the trip reports on BCP. So when my wife said she wanted to take a weekend off from traveling I jumped at the chance to do a solo trip down to the San Rafael Swell and get in some. I also knew it was just about perfect timing as it had not rained in over a week, possibly 2, and there was really not much of a chance this weekend. The weather had also cooled a bit so it wasn't going to be crazy hot. I woke up early on Saturday Sept 17th and rolled out about 5 a.m. After stopping numerous times to get some shots of the Harvest moon setting and stopping to see the Temple Mt. pictographs, I arrived at the Little Wild Horse/Bell Canyon trail head about 9:30. There were only 10 to 12 cars in the main lot upon arrival so I wasn't too worried about much of a crowd. I was on the trail by 10:15 and very shortly thereafter, in my fist slots! I was stoked! I only saw a couple of groups along the way which was great. I went back a couple of weeks later with my wife on Columbus Day weekend and it was slam packed full of families.
The Harvest Moon setting over the Swell.
Temple Mt. Pictographs
Little Wild Horse Butte.
Most of LWHC was completely dry.
Really cool Tafoni. I've seen almost the exact shot on another report or two.
I climbed up on a shelf and found a couple of pools, the most water I saw in LWHC.
Walking the road to the back of Bell Canyon.
The backside of Bell Canyon sign.
The beginning, or rather the end, of Bell Canyon.
Really cool wood grained rock.
I caught up to a young couple from Oregon close to the more narrower parts of Bell Canyon, during this section, where we also encountered a little water, I was too busy chatting with them and forgot to take any pictures.
When done, I grabbed one of the cool campsites nearby and had diner with a fire and a few brews.
After all I have seen and read, the Swell did not disappoint! This was a great place, with some great weather for an introduction to some narrows.
Thanks and Cheers!