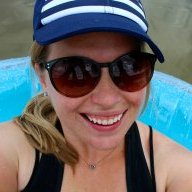 hiker-trash extraordinaire!
Joined

Sep 6, 2015
Messages

23
​
It seems sort of counterintuitive to head to the Arizona Strip to get away from the heat, but we've turned into water-sniffing bloodhounds these days. If there's a swimming hole, we're in it!
Little Jamaica (aka Desert Springs or Littlefield Springs) is a cool little dip along the Virgin River. It's just outside Littlefield, AZ and within spitting distance of I-15. The water is a chilly milky-blue, pooled into built-up terraces. Its proximity to the interstate is both a blessing and a curse -- Little Jamaica is really easy to get to, but it's also fairly busy, and littered with an annoying amount of trash. Still, it's free, pretty, and close to St. George.
​
Get there:
To get to Little Jamaica from St. George, head south on I-15 until you reach the Desert Springs Exit (#9) near Littlefield, AZ. Head left just after you leave the interstate onto unsigned Fleet Street. Drive west for about 0.25 mile, then turn left again. Drive under I-15, and turn right after the tunnel onto Farm Road (no sign here, either.) Keep driving another 0.25 mile to the end of the road. It turns into dirt and you'll reach a big ol' parking area.
Do it:
From the parking lot, you'll trek about 0.25 mile down to the springs. It's a quick walk, but it's steep and slippery, so wear some Chacos. Good stuff.