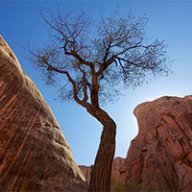 Joined

Aug 9, 2007
Messages

12,947
Just thought I'd mention something interesting I discovered recently. I usually use
Eneloop rechargeable AA NiMH batteries
in my GPS but for the Highline, I decided to go with the
Lithium Ultimate batteries
so I wouldn't have to carry so many sets and to save a little weight. I usually don't bother with the Lithiums because of the price and the fact that I feel kinda bad throwing away so many dead batteries.
I'm usually very impressed with the fact that I typically get two full days of hiking out of one pair of AA NiMHs on my GPS, but I was completely blown away by how much life I got out of the lithiums. I put two of them in at the beginning of the Highline hike and they've last through
Highline Day 1: 10.5 miles
Highline Day 2: 6+ miles and then I forgot to turn it off until 20 miles down the dirt road
Priord Lake Day 1: 10.2 miles
Priord Lake Day 2: 10.3 miles
So basically 4 good days and 36+ miles of hiking and they still aren't quite dead!
FWIW, my GPS is a
Garmin Oregon 450
which btw is down to $259 on
Amazon
. Great price.