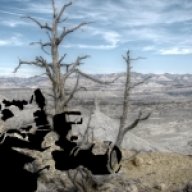 Joined

Mar 12, 2012
Messages

72
After my
trip to Horizon Arch
, I wanted to go back and explore some more. So on Saturday we set off from the same trailhead but kept heading East toward Link Flat. The road in had recently been graded so the riding was fast and smooth. The first stop was at a geocache we drove by last time in Kimball Draw.
The trail soon climbed out of Kimball Draw and down into Cat Canyon. This was a neat section to ride through. The canyon walls were high and the road was narrow. The next stop was at an old iron dam. This was a cool area with some big ponderosa trees.
We sat and had lunch here and then it was off to some amazing overlooks. The first stop was at a spot overlooking the Lucky Strike Mine. The road in was a little rougher but nothing serious.
Next stop was at a geocache that was placed close to edge on a small ledge. It was frightening grabbing this one.
After finding this cache we headed to another cache and overlook. Along the way, we ran into a small herd of horses coming from the overlook. It was neat watching them because they had to run close by.
Afterwards we headed toward Copper Globe. Here the road got a lot rockier and a bit more challenging. It was fun bouncing up ledges and then dropping down others. We ran into another herd of horses along our way.
Soon we were at Copper Globe. We had been here before so it was a quick look around.
After that we had a choice; ride back the way we came or head out on the paved Moore cuttoff road. The way back sounded a lot more fun. So we turned around and headed back. We only ran into 3 other people in a group. All in all it was a great day, the ride was fun and the scenery was awesome.
Google Earth kml
of the ride
Google Map link
of the ride