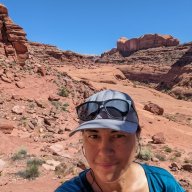 Joined

Jan 11, 2018
Messages

697
Hi all,

I decided to dip into my large pool of unused vacation and airline mileage and booked a trip to Barcelona/Pyrenees for the second half of September. I may have to work a few days, but wanted to keep things light so I'm trying to decide the best setup for navigation and work. I would rather leave my Macbook Pro at home.

What I have:
Unlocked Moto G5 Plus (running Backcountry Navigator now)

DeLorme GPS that supports uploading Open Street Maps (have not yet tried Open Topo)

Kindle
What I need to access:
VPN client, SSH client (rest of work apps are cloud-based)

e-books (e.g. guides)

topo maps

Preferably Affinity photo editing software
What I'm considering:
iPad mini or something less fancy/expensive than a Pro

Can leave a keyboard case in the city while hiking.

mini solar charger/battery bank?
Any recommendations?