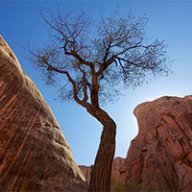 Joined

Aug 9, 2007
Messages

12,918
After my trip to Yellowstone, I was itching to get back to the desert and finish off the year with a few weekends of canyoneering. We kicked it off with a quick weekend trip to the North Wash area. This was my first time canyoneering North Wash and I was a bit apprehensive about the 'skinny canyons'. Since I'm much larger than most people, I'm sort of terrified about getting stuck in a slot that most others would be able to just squeeze through. But Tim assured me that I should have no problem with our planned canyons so off we went.
The weather was nasty on the day we drove down. Heavy thunderstorms throughout the central and southern part of the state were flooding out the canyons. Not the kind of weather you hope for to start off a canyoneering trip! Fortunately, the forecast showed it clearing up over night so we decided to go for it.
We left Salt Lake late on Friday and found a place to camp in the dark near Little Egypt. It was pretty cold and windy that night with a few snow flurries blowing through. But as the sun rose on my damp, frost-covered sleeping bag, I opened my eyes to a beautiful sight.
It was a bitter cold morning getting packed up. Everything was soaked with frost so it felt great to finally start climbing up to the head of Leprechaun Canyon.
After the first steep climb up through the slickrock, we reached a social trail that followed the rim of the canyon to the point that we would drop in. It was cool to see the fresh snow on the Henry's.
As soon as we dropped into the canyon, we could tell that it had just flooded and we were the first to go through. What is usually a dry canyon was littered with small pools.
AustinCronnelly
trying to avoid getting his feet wet in the upper part of the canyon.
Soon the little pools weren't an issue because the entire canyon was filled with water.
lostlandscapes
and
AustinCronnelly
taking the high road
Once again, this canyon is usually almost completely dry!
A skinny awkward section of the slot.
An amazing fluted section of canyon. Shortly after this, we went through a super skinny section where I actually could not fit and couldn't easily go high. I actually had to hand off all my gear and go low, exhaling as I squeezed through a slightly wider portion.
Austin on the final rappel. The main canyon wall can be seen in the background.
A fun little downclimb just after the last rap. I think some people rap this as well but it would make for a terrible rope pull.
Below the technical section in the Main Fork. This part of the canyon can be hiked to from the bottom, without any technical gear.
Walking back to the Sandthrax Campground along Highway 95.
Upon arriving back at Sandthrax, we realized we had parked our car in the middle of Prankfest. I had indirectly been invited to it, but since I didn't really know anyone, I chose not to attend. They were a friendly bunch and tried to get us to help in the prankery but we declined and after a beer we were off to do Lucky Charms.
Lucky Charms is a very short non-technical canyon just up the road from Sandthrax. The route goes up one canyon and across the bench and then down the next. No ropes are required but lots of squeezing, climbing, stemming is. I went up the up canyon for a while but I was not loving how much stemming was involved. I was getting pretty exhausted and after Tim confirmed that there was still a lot more of that, I opted to head back and keep an eye on the cooler while the others finished up.
As I walked the road back to the car, I could see something moving by my door. I thought it was an animal at first... and then I thought it was someone trying to break in to my car! As I got closer, I realized what had really happened. The prankfesters had struck!
The decorations were one thing, the nasty pine tree car freshener that they stuffed into the bed of my truck was another!

I thought seriously about sneaking back into their camp that night and slapping backcountrypost stickers on all of their cars but we were camped much too far away to make it worthwhile.
We went back up towards Little Egypt to spend the night. This time we camped at the actual Little Egypt geologic area. As we cooked dinner, we experienced a phenomenal sunset that lasted for a very long time. There were several different layers of clouds around and so it was like a new sunset as each layer lit up.
After the sunset, we sat around and enjoyed the fire. It wasn't too cold out but the wind picked up with a vengeance and we ended up hiding along side my truck trying to find shelter. The next day we planned to do Morocco Canyon which I'll post in a trip report later on. I'll probably be posting a video from this canyon as well. I was holding off on the trip report until it was done, but who knows when I'll finally finish it!
Featured image for home page: