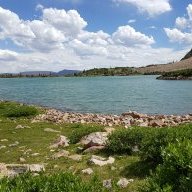 Joined

Aug 8, 2016
Messages

2,071
Over the long holiday weekend I got a chance to push my personal limits and take on a longer day hike that I have yet to do. I was camping in the Flaming Gorge area and was looking for a challenging route. My brother, Brent, and I had started our Uinta Highline Trail trip last August at the eastern tail head in McKee Draw just off of US 191 which just happens to be less than two miles south from the campground at which were were staying. I was feeling a bit nostalgic and wanted to see some of the trail again. I discovered the Leona Spring Trail which ends at the Uinta Highline Trail at Manila Park so I did the map math to see what kind of mileage it would like to hike to the eastern trail head. It penciled out to just over 15 miles. I was intrigued but cautious knowing that this old guy has never done this kind of miles all at once. I made the decision to give it a try but had a Plan B to exit at East Park Reservoir where my wife could pick me up in case I couldn't make the whole route. I made the mental commitment.
I was very anxious about the trip and found it very hard to get any sleep the night before... very frustrating but I managed to get a few hours sleep. Patty dropped me off that the Leona Spring trail head and I was ready to hit the trail right at 6:00 am.
I have been experimenting with some new video gear so I didn't take too many stills so some of the pictures here are screen grabs from the video so I'm sure the quality will not be all that good. I will also include a link to a video at the end.
For those who have not experienced the extreme eastern end of the Highline Trail you might find the video enlightening to see what its like.
Here is my track...
Here's the trail head just off of Highway 44...
From my previous experience on this section of the UHT I knew there would be no water sources after I left Leona Spring until East Park Reservoir. I packed two liters of water from camp and brought a third empty to fill at the spring. It was a really nice spring, the water was really good...
The trail was relatively steep after leaving the spring but easy to follow. Just as I was entering Manila Park at about 8:30 am I spooked two really big bull elk that were off to my right. They bolted in their typical fashion, snapping branches as they ran through the trees. That was exciting enough but when I cleared the trees into the meadow I was greeted with a dozen or so elk grazing on the opposite side. The lighting was really poor so any videos/stills were not all that great. Hope you can see some of them...
Most of these large meadows are called "parks" out here. They can be a bit challenging finding your way across them to find where the trail picks up on the other side. In many places there are no discernible tracks or trail markers and you have to consult your map to have an idea where to head. Sometimes there are the typical brown paddle board trail markers or cairns but many time they are back in the trees and are not readily visible from the park.
Heading east I found myself back into the trees. There are two different kinds of forest along the way. There are old-growth forest where your main guides are tree blazes, some of which are quite old and hard to see. You have to keep an keen eye on where you are going. It's easy to get off the trail and being all in the forest it makes it a challenge to navigate by map without visual points of reference. Here's a shot of this kind of forest...
The other type of forest is new growth areas where the trees are much less dense and not very tall. Since the tree blazes went away with the logging rock cairns have taken their place...
There are the usual downed trees across the trail every now and then but nothing too bad except for one stretch where I'm betting I had to climb over, around or under 25-30 of them. I didn't recall their being so many in this one section last August so I'm guessing the hard winter took its toll. Here's what some of it was like...
All in all its very beautiful and and really enjoyed being in the forest the majority of the time, especially when it was upwards of 80 degrees at midday.
The flowers were out in bloom everywhere...
I made it to East Park reservoir at a little after noon. This is where I would have to make the decision whether or not I would have to bail out here or continue on. I was really happy that I was doing better than I could have hoped. Besides sore feet I felt really good and made the call to continue on to the trail head which was about four and a half miles to the east. Before moving on I found an nice shady spot next to Little Brush Creek to take a little rest, have some snacks and filter some water. This was my view of East Park Reservoir from my little slice of paradise...
I had to pass through Big Park, which is... well... big
. Weather was threatening a bit from the west with thunder rolling off in the distance. This would be the last park I would cross so I was not too worried about exposure if lightning were to make it over my way so I felt good about that....
The entire trip so far had been very enjoyable especially with the discovery that I could do the whole trip. More miles that I have ever done before. Unfortunately the last three or so miles was completely miserable where the trail shares the route with the Outlaw ATV Trail. This section of the trail is rated "most difficult" for ATVs and it might as well be that for hikers as well. It's steep, with the whole trail being rocks of all sizes, logs, and other debris. It was really discouraging slogging down through it all. If I had to do that part of the trail again.... I probably wouldn't.
I made it to the trail head right at 3:00 pm. My InReach logged the trip at 16.8 miles. I was so thrilled that I actually could do it! All the hard work, trying to improve my condition had actually paid off. Made me feel pretty good for an old guy. I'm ready to take on the next adventure!
Here's the link to the video if you are so inclined...
Last edited: