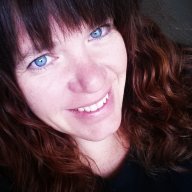 Joined

Jan 17, 2012
Messages

1,109
I made a last minute decision to take advantage of ridiculously warm temps over Thanksgiving weekend to hike a trail that piques my interest every time I drive past it. The Lava Trail on Hells Half Acre is a few miles outside of IF towards Arco. Definitely not a hike for summer or spring because it is a lava field. On this warmer than usual day in November the hike was HOT. Just a lot of up down scrambling that gets your core temp pretty warm.
I started late around 12:30 pm, I set a timer for 2 hrs to assess my progress and started chasing poles that blend into the surrounding especially in the flat light of this Sunday afternoon. First the blue tipped poles to find where the red tipped poles begin. Not an easy task, I promise, especially if your pole count is off.
Once on the red trail I was aimed towards a small blip in the horizon (a cindercone) that is supposedly where all this lava came from. Not really much to see out here because you can't look around while you hike, you are constantly watching your step or you get thrown off balance at least I did. That hurt, not only my pride but my jeans. The lava rock is brutal. It shredded my tennis shoes and if I ever hike this again I will wear leather gloves. If a person is not careful you could fall into a crevice and become coyote chow.
My 2 hour timer went off and I had just passed the 2 mile marker with 2.5 miles to go to the cindercone. I had a heavy internal conversation with myself about continuing or turning around. In the end I chose to continue knowing that I would be hiking out in the dark. By the time I lost daylight I would have approximately 2 miles to go and I would be slower moving than my current pace. If for some reason (gps died) and I couldn't keep hiking I would be spending the night in a bivy sack on very uncomfortable ground. I chose to keep going mostly because I am 98% sure I will never do this hike again and I just wanted to complete it and check it off my list.
I made it to the cindercone by 3:30pm. It is huge in circumference but not in height. I took 10 minutes to patch my hand up before heading back. I didn't want to stop prior to reaching the cindercone because my first aid kit was in the very bottom of my daypack.
If I thought finding the poles in the flat light of the afternoon was hard well as you can imagine it was nearly impossible at dusk. But I made good progress until the last of daylight was gone. At 5:23 pm with about 1 3/4 miles left to go I officially could no longer distinguish the trail markers from anything else unless my head lamp hit them. Each marker is approximately 2-3 minutes apart at my walking pace in a "relatively" straight line.
Okay at this point with darkness surrounding me and 28% battery life left on my phone I was getting a bit nervous. This was amplified by the sounds of coyotes on both side of me. But hey I made my goal of the cindercone, sure my feet hurt like the hell I was standing on but I should be back to the car by 7pm. This time of year sucks!
Coyotes continued to keep my mind company I mostly made forward progress and made it back to my car by 6:30 pm. Gps didn't die thank gawd. I was beat and starving! I decided this was the easiest hardest hike I have ever done. My tennis shoes are completely trashed, my good jeans and left hand have a hole in them. But, my curiosity about this hike is taken care of.
Sent from my SM-G935V using Tapatalk