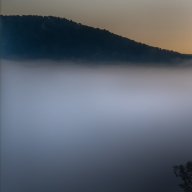 Joined

May 19, 2012
Messages

1,812
We once lived near Sawpit, Co, about 15 miles down the canyon from Telluride. In the fall on 1996 I had an architectural design firm in Telluride, and on this bright sunny morning I had an important meeting in town at 9:30 am. At 7:30am I discovered that the only road into Telluride along the San Miguel River was closed due to rock slide. I was desperate for work, and this was a meeting with a potential client to show them my portfolio. Well, I decided to take the Hastings Mesa Road out of Sawpit, and then to Last Dollar Road and down into town. Simple. I had a beat up 1984 Audi 4000 quattro, and the two people I called for advice told me it was not advisable. Desperation does strange things to a man, plus it sounded like fun. I encountered no serious obstacles, it took me 2.5 hours and I missed the meeting. I had to replace worn out front wheel bearings.
Fast forward to last Wednesday, I was on my way home to Carbondale from Telluride, and I was overcome with this desire to drive the Last Dollar road over to Dallas Divide and Hwy. 62. I don't know why I did it, maybe it was Randy's posts around the San Juans in his Jeep, maybe it was my various mental conditions. Who knows? Maybe it was because I was driving my wife's 1988 BMW 325ix:
This is a view (above) of Last Dollar Peak, from just above the airport near Hwy 145.
The historic Aldasoro buildings, Aldasoro Ranch. Tom Cruise has a big house above here.
Sunshine Peak on the left, Wilson Peak on the right, Mt. Wilson to the left and behind Wilson Peak.
The road is paved for a mile then it is a nice graded road as it climbs above Hastings Mesa, and basically winds itself around the end of the Sneffels range. This is a view to the south, Sunshine Peak on the left, Lizard Head just to the right, Wilson Peak on the right.
I had no goal, other than photographing some of the old homesteads I would pass, remembered I had passed, in the past.
I encountered a dozen or so jeeps going the other way, and I noticed interesting looks from the occupants (they obviously did not realize I had AWD). The looks ranged from amused, to amazement and pity. Mostly pity. One particularly helpful guy stopped, with his wife next to him. He actually stopped his engine and looked down at me (I had pulled over to let him by), and he asked me why I was here. I said that I was driving over to Dallas Divide. He said no, why was I here in a friggin BMW? I said I had driven this long ago in my Audi blah blah blah. He said I would not be able to get around the mud hole up ahead, but that I could turn around. I said I did not remember a mud hole, but he said there is one now and it was deep. I asked him if that was it obstacle wise and he just shook his head and drove off in disgust. He was right though, as the road had gotten pretty rocky, and I was beginning to regret this.
It didn't look too bad though. I took me a few minutes of careful thought and consideration (I went around to the right), and the only damage was the front faring that was hanging off, but it snapped back into place. German engineering!
Lizard Head.
Lone Cone.
Lone Cone on the right, Little Cone on the left.
Old zig zag fence.
Finally around the end of the Sneffels Range, view to the Ridgeway side. Better road.
An old homestead I remembered had a few rv's around it, difficult to shoot. The old barn above.
House porch below:
Overall I was glad I made the trip over Last Dollar Road. My wheel bearings are intact, which is a good thing.
Greg
Featured image for home page: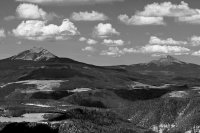 Last edited: