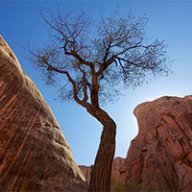 Joined

Aug 9, 2007
Messages

12,938
Time to wrap up this series of trip reports. This is the last of 4 parts. Links to the previous trip reports are below:
Part 1:
Grand Teton National Park
Part 2:
Upper Geyser Basin
Part 3:
Canyon & More Geyser Goodness
Part 4: Lamar Valley, Mammoth & Fairy Falls
For our last full day in Yellowstone, we decided to wake up super early and head out to Lamar Valley. Everything we had been told is that Lamar Valley is the place to see wildlife. And considering that we were already pretty happy with how much we had seen, we were stoked to see Lamar. We got up and left West Yellowstone around 5:45am and started driving the dark, winding roads to the northeast end of the park. It was largely uneventful except for a stretch between Norris and Mammoth where we nearly hit a very large Grizzly Bear! Okay, it wasn't actually that close to getting hit, but we got a very up close view of him. We had just passed another car and as we rounded a corner, he was already starting to cross the road. He saw us and just booked it across and off into the brush. It was the only grizzly that we saw on our trip, and even though I couldn't get a picture, it was very cool to see.
We rolled into the Lamar Valley just as the sky was lightening up. There was a little bit of a sunrise but we opted to just keep driving in hopes of seeing wildlife early in the morning light. As we drove through the valley, we saw tons of bison and a handful of antelope, but most were far out in the fields. We made it to the other end of Lamar Valley and spotted one cow moose but it was also very far away. I thought about driving all the way out the east gate to check out Beartooth Pass, but we still hadn't eaten breakfast so we turned back into the valley. Thea peaks to the north east looked awesome though.
On the way back through Lamar Valley, we decided to stop and see why there were 50+ people with spotting scopes all camped out along the side of the road. We had seen 3 people standing at this spot on our way in but hadn't stopped.
They told us there were wolves in the distance. We searched and searched and had a very hard time seeing them, but they were out there. I almost didn't believe it for a while until I heard them start howling across the valley. That was a very cool experience. These photos are of a very poor quality. They were taken at 400mm and cropped way down. You can see one of the wolves watching over an elk on the hillside.
The wolf is in the top right of each photo, elk in the bottom left.
The experience made me really wish I had a spotting scope. Too bad I was a slacker and didn't pick up the one
langutah
offered to lend me for the trip!

We decided to head back to Mammoth and get some breakfast. Along the way we stopped to snap a couple photos of another black bear foraging on the hillside near the road. This one didn't feel like posing like the others.
We made it back to Mammoth and went over to the restaurant to eat breakfast. It was a breakfast buffet and I was stoked! We'd eaten like crap so far on the trip and that sounded so good. We waited for a few minutes to be seated, but then found out we were 3 minutes late to eat breakfast! The few other groups who had already gotten their names in could have breakfast but not us!
So we told them we'd just like lunch then. Nope, sorry, they close from 10-11:30, at which point they start serving lunch.

What. The. Hell.
Time to get on my soapbox for just a minute. I try hard not to get political, but the way the park concessions are run, not just in Yellowstone but in general, really pisses me off. I totally get the idea behind privatizing certain aspects of the park. Yay, capitalism, blah blah. But since the government just awards contracts to one company to run the whole park, there really is no motivation for them to do a good job. The lunch buffet at the Old Faithful Inn was so awful that any other restaurant would go out of business in no time. And turning away customers when people are waiting to eat so that you can close for an hour between breakfast and lunch!? Totally ridiculous. I don't know what the solution is, but I don't believe this level of 'privatization' is any better than just having the park run it. Maybe they need to make the contracts a little more competitive and base whether they get to keep doing it heavily on customer feedback. What it is now, sucks. End soapbox.
So after getting turned away from eating in Mammoth, we drove into Gardiner, Montana. Wow... what a dive. It's crazy to think that a town right at the gates of the busiest national park in the United States could lack decent services. But we were hungry so we went to a local cafe, had breakfast and made our way back into the park. Audra noticed some bighorn sheep on the cliffs near the north entrance. Cool to see yet another unique animal on this trip.
When we went past Mammoth, there were plenty of elk out laying on the grass. I guess this happens all the time but it was cool to see first hand.
We stopped and checked out some of the hotsprings at the Mammoth Terrace. There were some cool ones but overall the area seems to have fizzled out. Here's a few shots:
I really liked this landscape with all of the dead trees.
We didn't really know what to do with the rest of our day. We were totally exhausted from waking up so early. The thought of heading back to West Yellowstone and taking a nap was so tempting. But it was our last day in the park so we went and saw a few more things. We stopped at the Norris Geyser Basin and walked around for a bit.
Porcelain Basin
After Norris, we went back to the Middle Geyser Basin to hike the Fairy Falls Trail. I didn't realize it at first, but the trail goes right along the back side of Grand Prismatic Spring. The only reason I figured it out was because you could actually see the different colors in the steam clouds. I thought it was pretty neat.
The hike to Fairy Falls was pretty boring. The first mile or so is along an old road, and you can't help but notice a short extension of the boardwalk at Grand Prismatic would cut off nearly a mile of this road walk. After that section, the trail turns off into a section of thick forest. All of the trees are young from the fires so you can never see more than 20 feet or so. It's like walking through a Christmas tree lot for a mile and a half!
And to make the mileage feel even longer, someone went through and wrote mileage on a ton of the tree markers. .45 miles to falls... .41 miles to falls... .37 miles to falls.. Ugh...
The Fair Falls themselves were pretty cool. It is on the shady side of this mountain so there was a lot of ice forming.
I actually enjoyed the stream below the falls as much or more. Tons of ice formations.
A squirrel munching down dinner on the hike back to the trailhead.
On the hike back, I kind of put two and two together and realized the classic view of Grand Prismatic Spring isn't actually taken from part of a trail. It's just a scramble up a really steep, loose slope along the Fairy Falls trail. There is no sign for it or anything, just a ton of social trails leading up at various places. We scrambled up to get a view. It was well worth it.
After the hike, we went back into West Yellowstone for dinner and the next day we woke up and drove home. It was an excellent trip with great memories, and I'm so glad we did it when we did. Overall I really enjoyed the park but it's definitely not some place I will visit often. I loved the wildlife the most, and the thermal features are very cool, but I was not really a fan of the otherwise densely forested nature of the park. The peaks in the northeast section are more my thing. I definitely need to plan a backpack up there, but I think my next jaunt into the area will be in the Absoraka/Beartooths.
Featured image for home page: