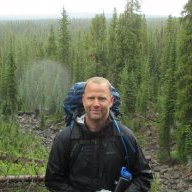 Joined

Nov 2, 2014
Messages

75
@Joey
and I completed a 7 day backpacking trip Sept 27th to Oct 3rd in Yellowstone. We started at the Lamar River trailhead, followed the Lamar River and Mist Creek, went over Mist Pass, through Pelican Valley to Wapiti Lake, around Hot Springs Basin and Rainbow Springs, down Broad Creek, around Joseph Coat Springs and finally to Canyon. It provided a complete mix of Yellowstone experiences – wildlife, rivers, passes, meadows, springs and thermals. We prepared for cold weather and rain by bringing lots of gear and lots of food. It would mean heavy backpacks!
Day 1 – Lamar Valley
We only planned about 5 miles on the first day but ended up going closer to 6 after going around a bison herd. I had spent the previous night at Madison and
@Joey
at the South Entrance. I spent a few hours that morning kicking around 100 Springs Plain (the other basin at Norris) while
@Joey
got out permits. 100 Springs Plain is interesting – especially the old signs:
I particularly enjoyed Cinder Pool that has black sulfur beads floating on it:
We met at Canyon, made our final preparations and then pre-positioned
@Joey
's van at the Wapiti trailhead before heading to the Lamar River trailhead. It was a pretty windy start but Lamar Valley is beautiful:
I have a suspicion that something interesting can be found in these exposed cliffs – something I hope to explore next summer:
About a mile into the trip we ran into two guys coming back down. They would be the first 2 of 8 people we would see that week. They didn't warn us about the bison herd just over the hill:
We made a couple attempts to go through the herd but the bison were intent on making us go around. We first attempted to go around to the right (the flatter portion) but we kept finding more. We eventually resolved to go over the hill to the left but a male shadowed us for about 200 yards so we had to go VERY wide to the left. It was not a fun way to start the trip but avoiding wildlife became a common experience on the trip.
We arrived at the campsite, set everything up and enjoyed a nice fire. We took in the lunar eclipse before going to bed. That was a special treat and my second lunar eclipse in the park – the first being during the winter 5 or 6 years ago:
Day 2 – Lamar Valley
Day 2 was a little more ambitious at just under 12 miles. It started off with a thrill as we headed up the hill to the main trail I didn't notice a bison waiting for us at the top. I heard it before I saw it charging me. When it was about 15 feet away I turned and ran back towards
@Joey
. He then snapped a good picture:
We spent the entire day following the Lamar River:
I especially enjoyed our breaks relaxing soaking in the scenery:
The rangers had warned us the camp site before ours was closed due to a carcass so of course we had to check it out. I had packed 3 bear sprays (I had intended to bring 1 spare but accidentally packed 2) spares) so we went in fully armed making a lot of noise. There was no longer a sign so I figured it had been cleared – flawless logic I'm sure. All we could find was a dug out fire pit:
We did find an impressive amount of bear scat – including one with a bone fragment in it. Aside from the morning excitement, it was a delightfully uneventful day as we enjoyed hiking in the sun along the river and taking in the scenery.
Day 3 – Mist Creek
Day 3 started off pretty cold – our water bottles froze up. We only planned 5 miles but it was a section of the park that was new to both of us so we took our time enjoying the creeks, the meadows and the views:
We left the Lamar River and switched over the Mist Creek which would lead us closer to Pelican Valley.
Our campsite was in a large picturesque meadow in a valley about a mile from Mist Creek Pass:
We had hoped to see wildlife but were disappointed to find very little. We were starting to think the bears were getting ready for the government to shut down again. We even walked a good portion of the meadow at dusk but struck out.
Day 4 – Mist Creek Pass, Pelican Valley, Wapiti Lake
Day 4 was to be our longest at over 15 miles but it also promised to offer the most variety in scenery. It was colder than the night before so we waited for the sun to hit our tent before getting up. Joey spotted a deer in the meadow and elk in the hill above the valley so that was a good omen:
We had a little over a mile climb to get to the top of Mist Creek Pass and the views looking back at the meadow were memorable:
We also had great views to the east and south – Pelican Valley, Yellowstone Lake, West Thumb, Mount Sheridan, the Tetons and more:
Our phones worked well enough at the pass to contact my wife and let her know we were alive. We also checked on football scores (Go Hawks!) and even a little Facebook with
@scatman
. At the bottom of the pass is Pelican Valley and we headed north through the heart of it. It seemed like every hill and turn we encountered a bison and had to give them a wide berth. Our 15 miles was getting hotter and longer! As we approached Raven Creek, Joey spotted a grizzly in the distance close to the trail. He has better pictures but here is mine:
The grizzly stood up and checked us out which wasn't very comforting. We crossed the creek, gave it a lot of distance and then took some pictures and video.
@Joey
then saw a second head pop up and he realized it was a sow with a cub. We packed up the cameras and walked very wide around her. The 15 miles was getting longer! We reached the edge of the valley, climbed a hill and enjoyed lunch with a view of the valley:
I had half a bag of tuna and packed the remainder up in a ziplock bag.
The Pelican trail continues north popping in and out of meadows. It looks flat on a map but it's surprisingly up and down and windy. Our 15 miles was getting longer! We visited a number of thermals along the trail:
A few miles later we ran into a couple out for a day trip. I think
@Joey
subsequently figured at least one of them reads BCP. They told us they had recently visited Rainbow Springs and we told them we were headed that way as well. By now we were getting somewhat concerned about daylight. We had to keep dodging bison – our 15 miles was getting longer! We eventually came across the most impressive mud pot I've ever seen:
At this point we still had about 5 miles to go and were running low on daylight. With about 2.5 miles remaining we took a final break. I opened my food bag and realized my half eaten tuna had leaked all over my food bag. To make matters worse my phone was in there too! I was pretty angry with myself and without giving it much thought I dumped out the remaining tuna too close to the trail. Joey chastised me and we carried on. About a mile later a black wolf ran across the trail about 50 feet in front of us. It was exhilarating but it happened too quickly to take a picture. We later hypothesized that he went back to enjoy my tuna. We named him Ralph – he would become a big topic of conversation between Joey and me for the remainder of the trip. We figured he developed a taste for fish and starting fishing the Pelican River – especially after the pack chased him out for not sharing the tuna. We finally reached camp at Wapiti Lake with about 30 minutes of daylight so that was plenty of time to setup the tent and gather firewood so our "15 mile" day worked out perfectly. The woods near Wapiti are old growth, cool and creepy. The campsite is on a peninsula so all in all the area is very scenic.
That night the rain would start.
Day 5 – Hot Springs Basin and Rainbow Springs
I was enjoying the entire trip but I was really looking forward to Hot Springs Basin. I missed @Scatman's trip their last fall because of a family wedding.
@Joey
was also interested in seeing Rainbow Spring a few miles deeper so we had several fun activities planned. It was raining as we departed but it wasn't too cold. I was OK with it being from Seattle but
@Joey
wasn't too pleased:
We started by following Shallow Creek through a few thermals:
We eventually reached the biggest thermal area and investigated the southern half:
We then headed east to the second biggest area that
@Joey
calls a Caribbean lake. I'm sure the pictures would have been more impressive with sunlight:
We then returned to the bigger area and explored the northern section which ended up being quite spectacular:
It was then time to bushwhack a couple miles through the woods to Rainbow Springs. We didn't know exactly what they would look like but had a pretty good idea of where they were located. We managed to find them without too much trouble. It's not a huge area but it has some interesting features:
This one is very interesting – the water flows all the way through this and down out at the bottom:
I hope this isn't the result of vandalism – the top of the cone is broken off and a few feet from the bottom of the feature (not seen here):
We found the hot spring you can sit under – it even has built in seats:
The foot prints that go up and to the right were not ours.
Once again we were running out of daylight so we had to get going back to camp. We decided on a more straightforward route to Wapiti Lake but we did divert a little for some other thermals. This lake was very hot and we gave it distance:
We got back to camp with plenty of daylight and
@Joey
decided we needed to fix up camp and arrange the foot prep logs more optimally. They were previously laid out in a very strange formation:
Day 6 – Broad Creek, Joseph Coat Springs
Day 6 would be mostly off trail with the backpacks in the rain. We followed the trail south from Wapiti for a little over a mile before breaking away and heading south down Broad Creek to 4B2 and eventually 4B1. We would spend the next 4 or so miles following Broad Creek through Broad Creek and its meadows which took us close to some thermal areas:
We spent a little time looking for 4B2 but with the rain we were not in the mood for a protracted search. The rangers had indicated there was no sign of it remaining but when did we listen to rangers telling us no
I really enjoyed bushwhacking down Broad Creek but we gave up on keeping dry. The constant river crossings are bearable but the constant rain was a little annoying. Fortunately we were prepared with lots of clothing and food.
As we approached Joseph Coat Springs, Joey spotted 4B1 well before where I thought it would be according to my GPS data. The antlers helped:
We spent about 45 minutes in the rain hoping for a break to set up the tent. We eventually gave up and put it up in the rain. It was 5PM. I was cold. I went to bed.
@Joey
ate and explored the springs. I had explored them extensively 2 years earlier so I was happy being dry and warm working on crosswords. It turns out my phone works better at Joseph Coat than it does in the front country.
@Joey
called his dad to get the weather forecast – it wasn't very encouraging.
Day 7 – Bad Weather, Early return to Canyon
It rained all night. We had planned a return trip to Fairyland (we were there 3 years ago) but with the cold and rain we decided to get back to civilization. After 16 hours in the tent, we packed up in the rain and headed up the hill. We took in a few thermals –
@Joey
got a good picture of me:
I took good film of him:
The climb out of Joseph back to the trail is a little over 2 miles. The rain alternated between drizzle and hard but we pressed on. Our feet were soaked but we stopped for food to reenergize ourselves. After reaching the trial it's about 1 mile to 4M2 and then another 8 back to the road. We had both travelled that section a few times so I was pretty much on auto pilot to get back to the car. There are some pretty meadows as you get closer to Canyon. As we started down the final hill back to the car, I told
@Joey
it was all downhill from here. I was wrong. We saw people at the trailhead looking back up and a ranger coming closer to us in the distance. Then it occurred to me they were looking at something – then I noticed the grizzly in the trail about 100 yards ahead of us. It stood up and looked at us – we backed up and went very far off trail to get back to the car.
It was time for quick coffee stop at Canyon and then over Dunraven to get back to my car. Then things got really exciting:
The tow truck took us to my car and then I followed it and
@Joey
's van to Gardiner.
It was 5PM -- time for a quick shower before the 12 hour drive back to Seattle. I got home at 6AM, slept 4 hours and then watched football all day!
Featured image for home page: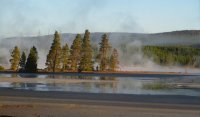 Last edited: