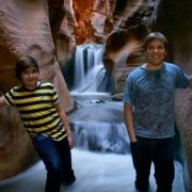 Joined

Jun 2, 2012
Messages

161
Okay, so I have like 20 trips I haven't posted, or even really looked at the pics. So here's just a random one from late May of this year:
Three coworkers and I went to Lake Powell to see what could be seen with the relatively low water level (it was around 3595).
We put in at Bullfrog and then went up Hall's Bay and camped on a weird dome of rock in a side-canyon alcove.
There was a cool bird (anyone know what kind?) hanging out in the alcove.
Sleeping on this dome was a little awkward, but there were some great sounds coming from a swallow's nest with babies and the mom getting food, she was flying in and out every 5 or so minutes with more food. Also, the Sacred Datura opened up at night and I'd never seen any in person, so that was cool.
We woke up on day two and headed to the Escalante Arm to visit Cathedral in the Desert. I was there 3 years ago and we boated right over the cliff where the famous waterfall used to be. This time the top 10 feet of the waterfall had reemerged.
Also in 2012 the water had covered about 1200 more horizontal feet of canyon, which had since reappeared.
Same canyon corridor in 2015. The water in this shot is natural and flows in from Clear Creek.
Last time I was there, the water was high enough to help upclimb the second tier waterfall and visit the lower part of Clear Creek, but this time the climb was too high, slippery, and the rope was shredded.
But on the upside, there is now a natural pool of water with some fish in it. (Not sure what kind? One kept biting me.)
Last time we boated through this part:
These plants are underwater now:
Next, we went up Anasazi Canyon to find the Lehi bridges. The canyon is very cool, it's narrow with lots of forks.
The bridges are probably mostly underwater now, due to the recent 25 foot rise of the lake. There is a slot canyon pour off just above them, and a lot of silt piled under the bridges from all the flash floods.
I wonder what it's like if you get up this:
On the way back to camp we stopped in this weird cove place, it was very big:
It's back to the rock in halls bay to camp again. The water had clearly risen since the day before.
On the third day we went to Defiance House (I've been before).
There were a lot of tiny frogs and tadpoles below the ruin:
After this we cruised up the north fork of Forgotten Canyon. There was a recently revealed slot canyon at the top of this fork.
We swam in and eventually came to a narrow opening with an up climb. There was no obvious way in because it was a narrow, sloping opening, up out of the water with no handholds.
First we tried chimneying, but the walls were too wide.
Then, Mike tied some rope to a piece of driftwood, to use like a potshot. I threw it up into the narrow canyon, and pulled myself up. Then I got the rope even better positioned, and helped the other three in.
This canyon is as beautiful as any slot, but now it is back underwater.
The canyon is a flowing canyon, with ice cold, crystal clear water moving through it. There was a dead mouse in one of the pools, but I got in anyway to look up canyon.
It looked climbable, but I was the only one with a wetsuit and the water was incredibly cold, so we turned around and left.
As the sun got lower in the sky we went and looked at the upside down dinosaur prints 300 feet up tapestry wall.
We did a last round of wake boarding, and then finally said goodbye to the Glen Canyon National Wrecked Area. It was a great weekend.
Featured image for home page: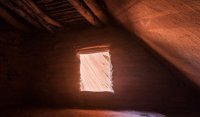 Last edited: