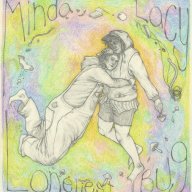 Joined

Mar 10, 2016
Messages

153
Hiking in the lower Mojave has come a little early this year, so I headed out to Malpais Flattop Mesa. Had a very windy night, rocking the truck in 30mph or so gusts. Wonderful !
<iframe width="560" height="315" src="
" frameborder="0" allow="accelerometer; autoplay; encrypted-media; gyroscope; picture-in-picture" allowfullscreen></iframe>
Next morning it was up (waking) early and up (on top) early to wander the mesa and take in the expansive views of the Colorado River and surrounding lands. It didn't take long to gain the top, or circle its fingery mass, and it was an utterly boring light day with nothing but clear blue skys. Last weekend I straddled a small (2'+ ?) rattlesnake in the still cool morning air before it had the courtesy to inform me of its presence. No such heart stopping surprise today ! Heard too many rattles for one lifetime already. Saw and heard many birds, and grasshoppers are still around in pockets. Just a casual day out.
<iframe width="560" height="315" src="
" frameborder="0" allow="accelerometer; autoplay; encrypted-media; gyroscope; picture-in-picture" allowfullscreen></iframe>
360
180 west