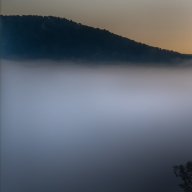 Joined

May 19, 2012
Messages

1,858
There is nothing better in this world than floating down a great river, with good friends and plenty of beer within reach (an important distinction when you are in canoe). My wife Nancy and I have meandered down many miles of flat water in the southwest, mainly accompanied by 2 good friends from Aspen who travel via sea kayaks. I find such excursions highly therapeutic, a tonic if you will to the mind numbing crap we are subjected to every day.
The last time we entered the Green River was 2 years prior in early September (at Spring Canyon, 18 miles up from Mineral Bottom, which was washed out), an absolutely hellish trip (even hellish trips are great), head winds, rain and heat. The first day we made it 18 miles in 8 hours, then we gave up and got drunk. We woke up the next day realizing through our hangovers that we had 50 miles to do in 2 days. But I digress.
This trip was destined for greatness. Everything went according to plan, including the car shuttle, which was a pain in the ass due to the fact we only had 1 car capable of carrying all of our gear and 4 people. So we had to drop off our wives and gear at Ruby Ranch (a mostly great road, 17 miles from I-70), then drive both cars, our Subaru Outback and my friends 91 Honda Prelude to Mineral Bottom (1.75 hours from Ruby Ranch, 18 miles of great dirt road from the Dead Horse Point road), then drive back to Ruby Ranch.
Above, road to Ruby Ranch.
Below, right before the switchbacks down to Mineral Bottom.
There were 2 other parties putting in when we did, all from the Aspen/Carbondale area, which was kind of cool. We saw each other periodically over the next 4 days.
Below, our first camp, a couple of miles down from Ruby Ranch on an island at Bull Bottom @ mile 93. The canyon walls were rising, and we started drinking margaritas, telling stories (some of which were true) and then return to our tent on the white sand.
Each day essentially repeated itself, except the canyon got deeper and more beautiful. Wake up, meander over to the kitchen, make cowboy coffee, have a gourmet breakfast, hangout some more and usually on the river by 11. It was cold in the morning (upper 30's, 75 during the day) not conducive to being on the water in a shady canyon. Our goal was 17 miles per day, with a short day on the last day. The river was at 1400 cfs, which made it a challenge sometimes to negotiate as it never followed any pattern as to where the sand bars were. I had to get out and drag the canoe and my adoring wife. But I actually loved getting out and walking in 6" of water in the middle of a wide river, and I only had to do it 6 or so times a day. We had very little wind, glassy water all day, and when it blew it just didn't have it's heart in it, as we were able to paddle right through it. On the 2nd day we met a guy in a sea kayak that had a GPS thingy, and he clocked us in the canoe at 5.5 miles an hour, but we were really pushing it.
You meet interesting people on a river. The GPS guy, when I asked him what he did, he said he worked for the government as a civilian biologist. I asked what he did. It is not often that I have not heard of a profession, or job title. But this guy's job was to travel all over the US, calibrating Chemical and biological sensor machines, that give us advanced warning of a chemical or biological terrorist attack. Wow, I said, what a trip! And he responded that he was tired of his job.
It's funny that I never even knew these machines existed, but I was suddenly really glad they did.
Below, Trin Alcove Bend @ 90.
Above, our second camp at 84, we made only 9 miles, but all was well.
It was pasta night, with many bottles of cheap Italian red.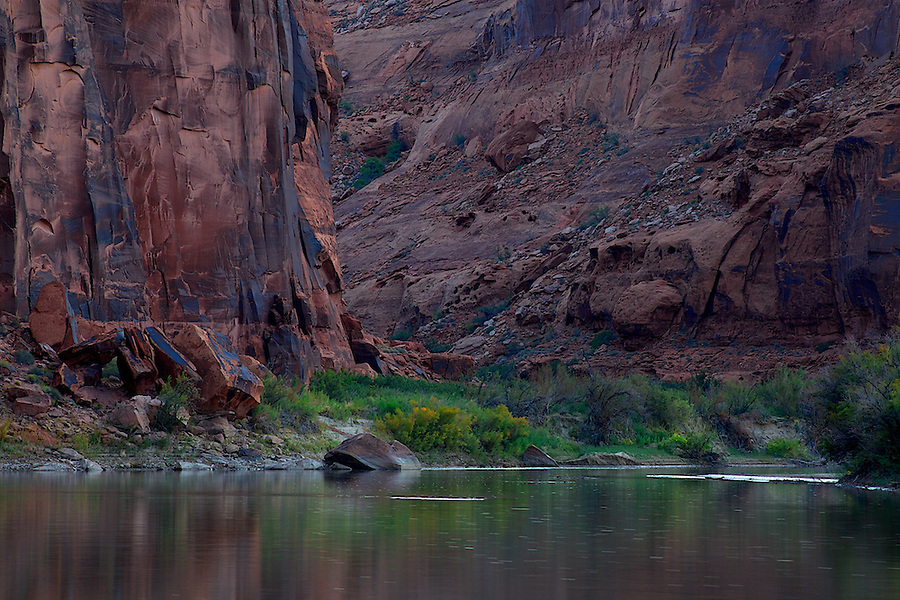 Day 3.
Above, approaching our last camp at Twomile Canyon, just down from Bowknot Bend, at mile 61.
Below, our final camp, another island. Sigh.
Above, Deadmans Point.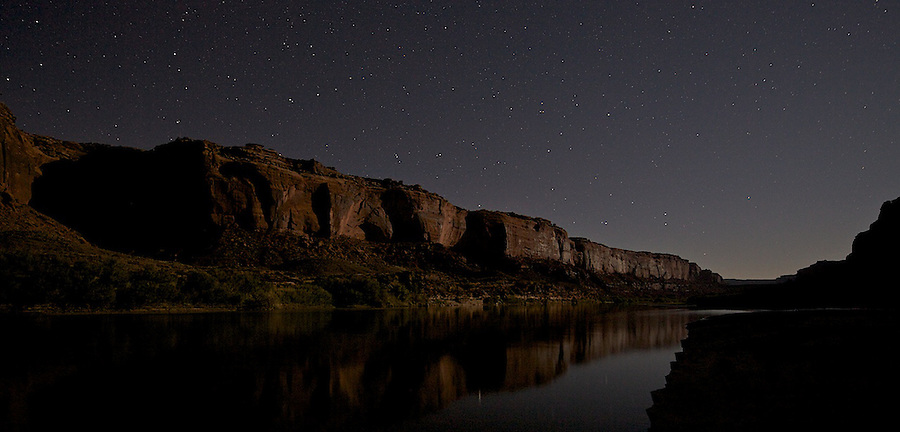 Above, Twomile Canyon.
Below, self portrait.
I might be back in November!
I hope you enjoyed the report and pics.
Featured image for home page: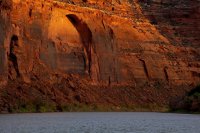 Last edited: