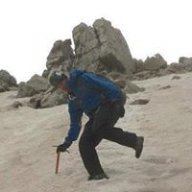 Joined

Aug 18, 2014
Messages

20
Hey guys,
I will start off by saying that I do
not
expect you to share your most prized & secretive Utah dream spots in this public forum ...... but I thought I'd at least get a thread started to see what sort of intel I can extract. Tactically speaking, I'd like to take advantage of the upcoming holiday weekend while hopefully minimizing the exposure to the masses of holiday campers, hikers, etc.
Here's the other variable - I moved here about a year ago and still haven't set foot in the Uintas. I'd like to change that and if I can facilitate said change WHILE finding the sort of solitude I prefer, it would be a significant personal win. Look - I like people. Heck, I'm a full-on extrovert when it comes to my profession ... it's just that when I'm in the mountains, I prefer solitude.
Annnnnyway -- again, not asking for your secret spots, just a little direction. Looking for a 2-3 day trip.
Thanks in advance!
.... as I read through my post before hitting "create", I started thinking about the potential responses and to be honest, it had a very Seinfeld'ly feel to it in my head. I'm hoping for more of the George Constanza "best bathrooms in the city" type responses.