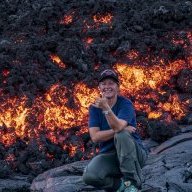 Joined

Jan 19, 2012
Messages

4,070
I often hike after work or school so I can get a few quick miles in. In most cases, I do not bring a camera with me. This time, I decided to hike from Hop Valley trailhead to the Northgate Peaks and back as a nice afternoon hike. It's a bit more than 12 miles but I wasn't sure how long exactly which was fine. Everything longer than 10 miles is a perfect afternoon hike. I just finished my last final exam of the semester and this hike was a great way to celebrate.
I arrived at the trailhead around 1:30 pm and was surprised to find a lot of cars parked. I guess with all the trail closures in the main canyon of Zion all the other trails see more activity as well.
I started the hike, crossed the road shortly after and went on the trail, which started to cross the nice meadow towards Pine Peak pretty soon.
first glimpse of Pine Valley Peak
A lot of wildflowers leaves were out there, with all the moisture and the snow it will be an amazing wildflowers years. Maybe in 2-3 weeks, the first flowers will be out.
I definitely can't wait to be back by then.
Silky Lupine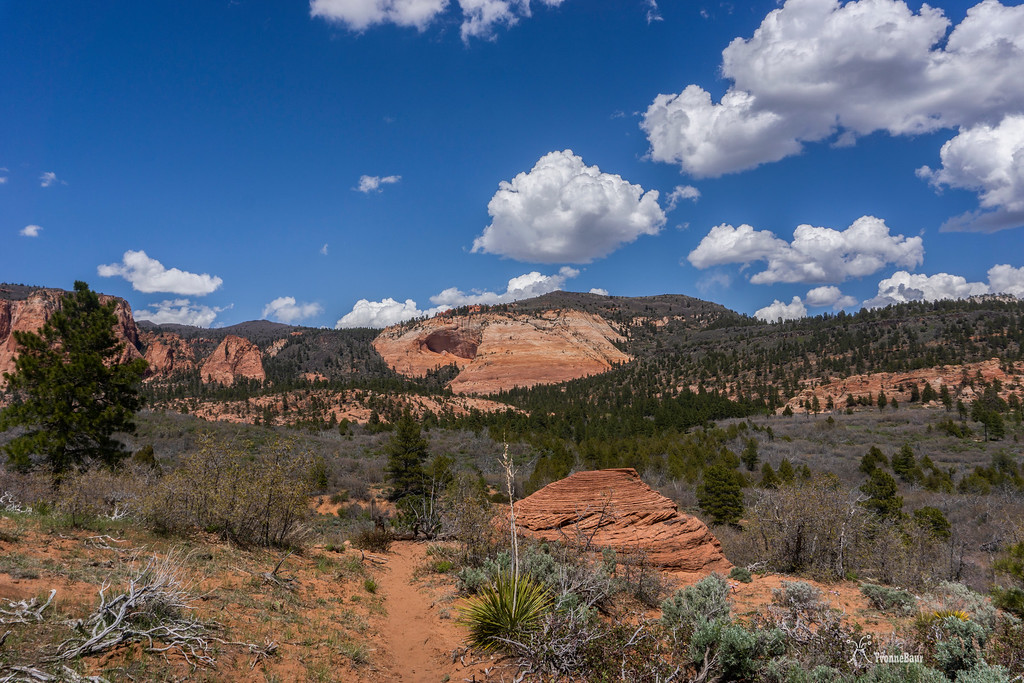 Pretty soon I reached the first wash crossing. Pine Springs Wash is usually bone dry, I've never seen any water in it at all. Today it was raging. I decided against crossing it with shoes as I usually get blisters when hiking in wet shoes but instead go without shoes. I found a shallower spot a bit upstream and crossed it safely. The water was ice cold and running pretty swiftly.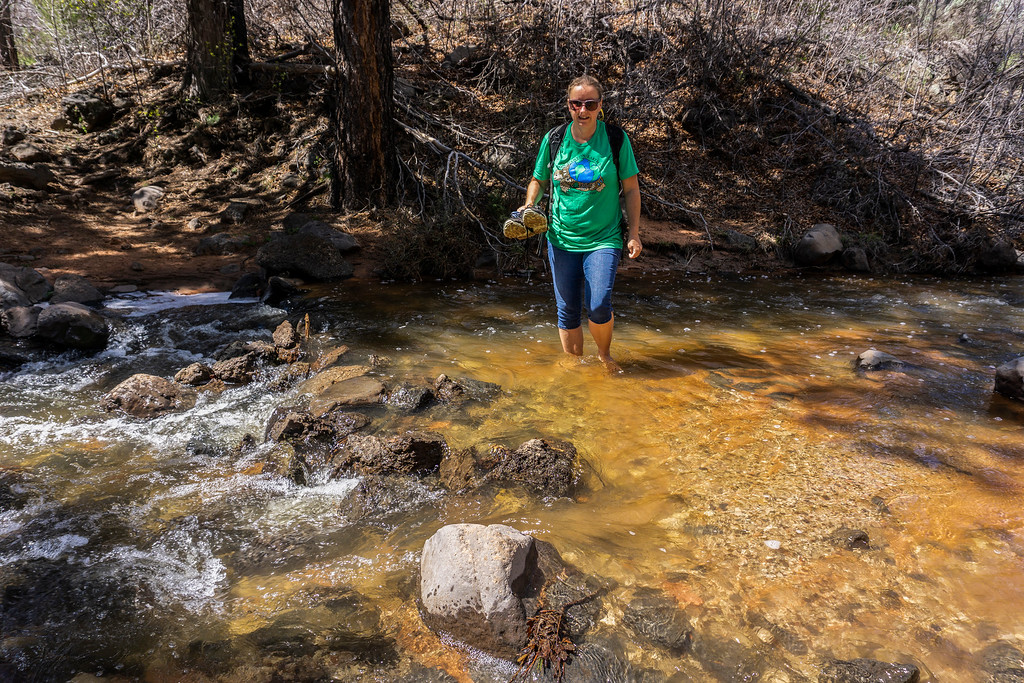 Shortly after I saw some fresh mountain lion tracks in the damp sand which was pretty awesome.
I would love to see the kitty who made the tracks as well. But I guess that's just wishful thinking. But amazing to know they are out here in the area.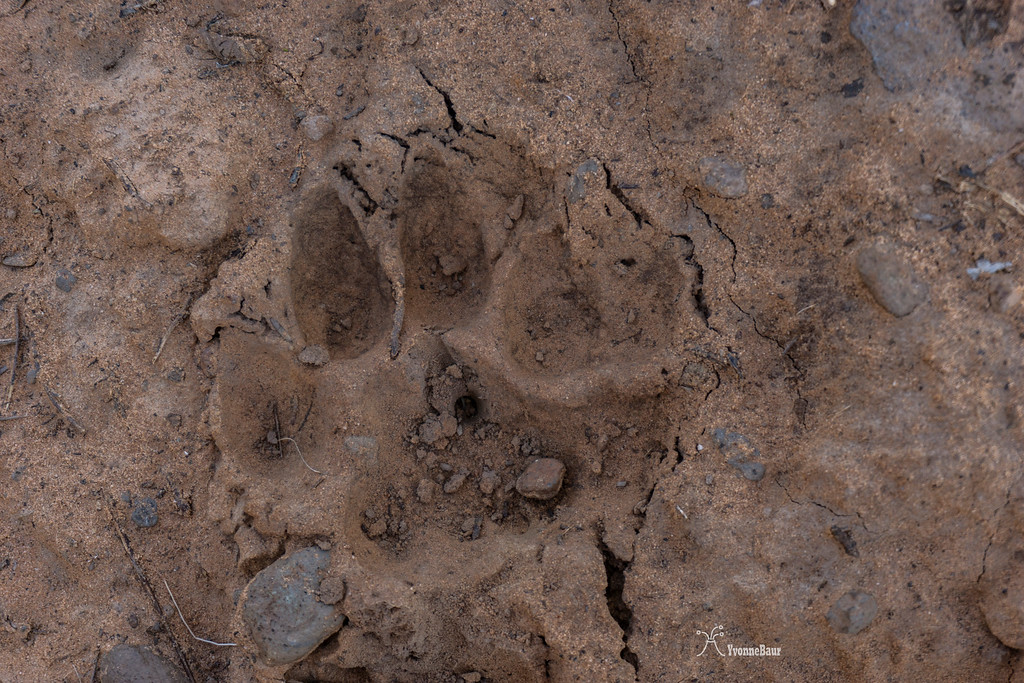 everywhere along the trail, I saw nice patches of wildflowers and it was such a delight to walk the trail.
Desert Phlox
Western Wallflower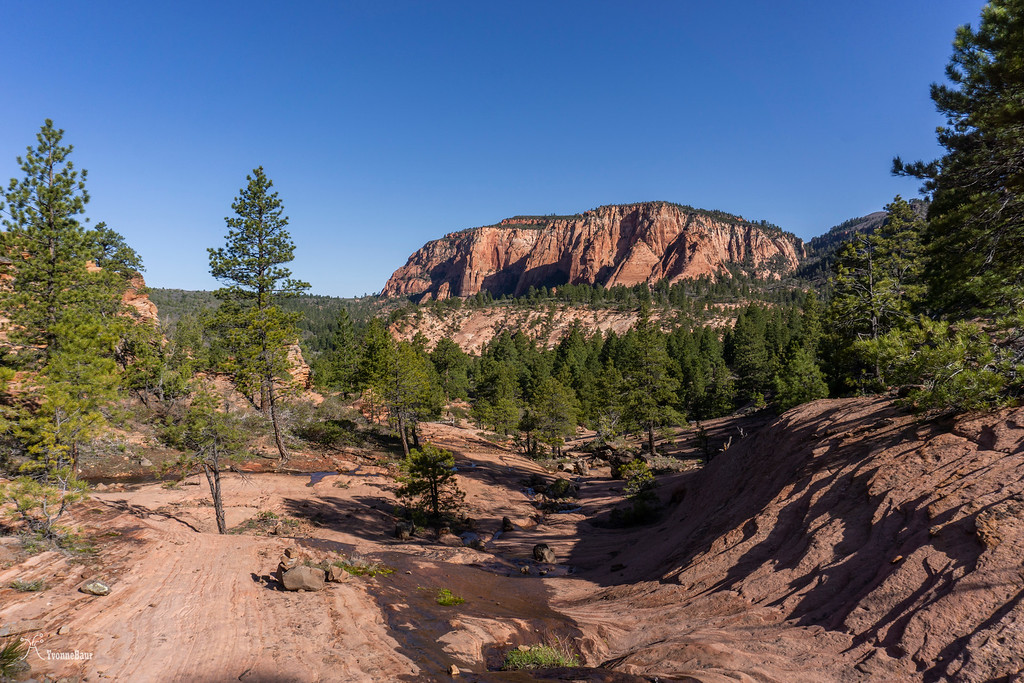 The trail went next to Pine Valley Peak and continued through a forested part. I was really nice and the temperatures pleasant, so nothing to complain at all.
I passed my favorite tree on the way, bent and pointing into one direction.
I wonder what his story is
I'm a tree hugger
Soon after the next wash crossing followed and it was also running swiftly. So same procedure as earlier and I waded across it without my shoes.
So amazing to see all this water out here. The amount of snow in the high elevation is still unbelievable.
The trail intersection with the turn to the Northgate Peaks trail came soon after and I continued hiking towards the Northgate Peaks.
The meadows were full of Bitter Root flowers, it was so pretty.
Showy Lewisia - Bitter Root
Eventually, I reached to the viewpoint at Northgate Peaks. It's a perfect spot in late afternoon and sunset, but not in the middle of the day. I had a nice late lunch break and enjoyed the view, it was nice anyway.
North Guardian Angel
I then retraced my steps and hiked back the same way I came. I crossed the wash again and when I reached the trail near the base of Pine Valley Peak I decided to explore the area a bit more. I went off the trail to the left, some bushwhacking followed. It was pretty cool. The best surprise was the remains of an old sawmill, spread out in a meadow.
Since I found the remnants, I had contacted our archeology department in the park and asked about it. They told me that it was old remnants of a sawmill. Definitely a pretty amazing find.
I continued further on, crossed a small wash and scrambled up a ravine.
I finally reached a Slickrock areal and found a pretty good spot to scramble up the saddle below Pine Valley Peak.
Scrambling up
The view from my high plateau was really nice and I enjoyed the scenery in all directions.
There was an amazing Slickrock field below PIne Valley Peak and I decided to explore a little bit more.
I scrambled back down, went through a shrubby area and stumbled across a deer carcass in a small meadow.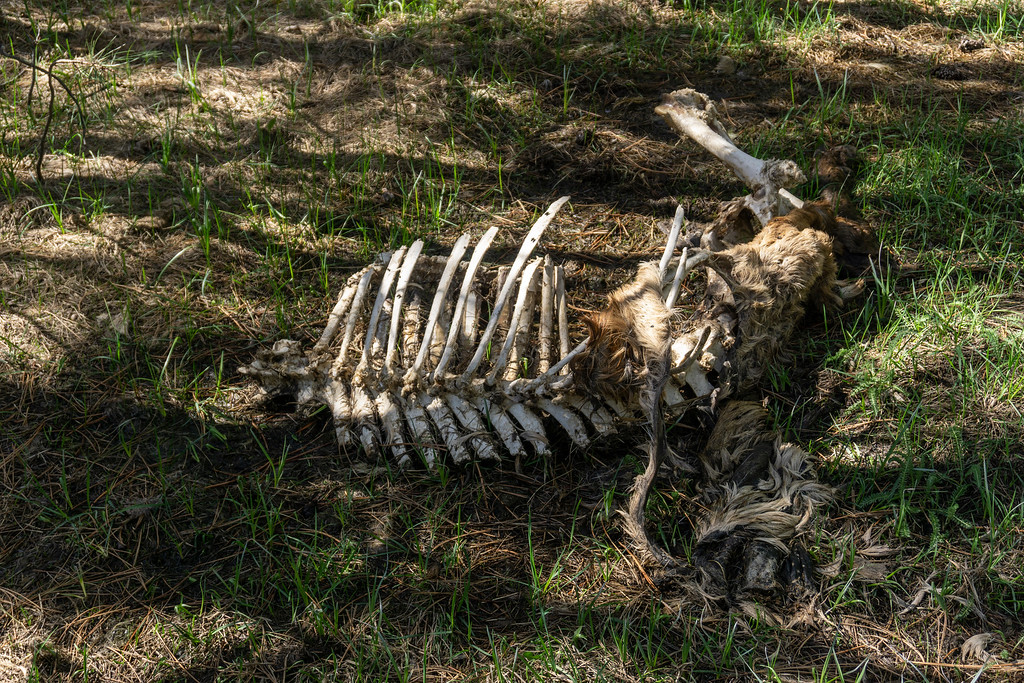 A few hundred feet after I found the first carcass I found another one. I guess the harsh winter took its toll on the deer population.
It was weird to see all the carcasses out here in the field.
Eventually, I reached the Slickrock area and was delighted by the view.
There were hoodoos, pinnacles, small water-filled ponds.
Pine Valley Peak reflection
Indian Paintbrush
Moqui Marbles everywhere
I walked around and enjoyed. I definitely have to come back and explore more of the area.
The hike back out was uneventful but the late afternoon light was finally hitting the peaks of Zion and Pine Valley Peak.
After 13.5 miles I was back at the trailhead. It was a great hike and I did not see a single soul.