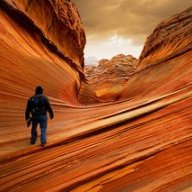 Broadcaster, formerly "ashergrey"
.
Joined

May 5, 2012
Messages

1,716
I'm considering dropping the cash for an Alpaca soon. In order to do that, I need to pass along my Kokopelli Nirvana. Figured I'd see if there are any Salt Lake-ish folks here who would be interested in picking it up before I post it for sale elsewhere.
It's a fun little class II+ boat, size small.
@Nick
and I picked up a pair of these 2015 models a few years back. He's since traded up to a more whitewater capable rig and I'm feeling the need to follow suit.
No self-bailing on the Kokopelli, no skirt either, so you do have to dump it if you take too many waves.
That said, I've had a great time paddling it on flat and moving water (Colorado River from Dark Canyon to Hite, Little Grand Canyon of the San Rafael, Muddy Creek, Flaming Gorge, Mendenhall Lake/Alsek Lake).
Kokopellis under moonlight along the Colorado
Dangerously close to an iceberg - Photo courtesy @Collin
The boat has an inflatable seat. It also includes the inflation bag, patch kit and original packaging. No holes, tears or abrasions, just plenty of sand and glacial silt in the crevices. Looking to hand it over for somewhere in the neighborhood of $375.