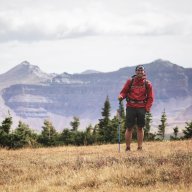 Joined

Mar 28, 2013
Messages

29
After missing the window to get permits for the Teton Crest Trail, I've been doing some research for the annual "long" trip. I've got a pretty solid contender right now in the Uintas. But without a lot of experience up there, I thought I would post the potential trip and get some feedback here. :twothumbs:
The trip will be 5 days, August 29-September 1, starting and ending at the Henry's Fork TH.
DAY 1:
Henry's Fork TH to Dollar Lake: 7.5 miles
DAY 2:
Dollar Lake to Anderson Pass: 6 miles
Drop packs and day hike to Kings Peak
Anderson Pass to Yellowstone Creek: 3 miles
DAY 3:
Yellowstone Creek to Red Castle Lake: 8.5 miles
DAY 4:
Red Castle Lake to Lake Hessie: 8.25 miles
DAY 5:
Lake Hessie to Henry's Fork TH: 10 miles
TOTAL MILEAGE: ~45.25
Any feedback on this proposed route would be great. Suggestions for different destinations/campsites each night, etc. I don't know how accurate the mileage is. I was using an older book for some of the info, and a piece of string on a map for the rest.
Do you think the dreaded mosquitos will have thinned out by those dates? (Aug. 29-Sept. 1).
Thanks in advance for any responses!