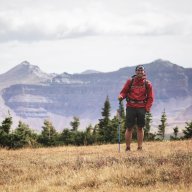 Joined

Mar 28, 2013
Messages

29
Summer of 2015, our backpacking crew was looking for an awesome 5-day trip in the Uintas. After spending some time with a map, we decided on a route that would take us to both King's Peak and Red Castle. I'm sure this loop (or variations on it) has been done by many people, many times. But since we didn't find any specific mention of it, I've decided to name it the King's Castle Loop (although technically it's a lollipop). The trip was legendary--we had an amazing time. Here's my day-by-day report on it:
Trip Overview:
August 29-September 2, 2015
5 days, 4 nights, 45.1 miles
Day 1:
Coming from Utah county, we hit the road early to reach our starting point: Henry's Fork Trailhead. It was only a 3.5 hour drive, but whenever en route for a backpacking trip, the drive always feels longer to me. We got to the trailhead at about 10 am, filled our water bottles, made last minute pack adjustments, then headed out to our first camp--Dollar Lake.
Taking the Henry's Fork trail, we spent the first part of our hike walking through forest, gradually gaining elevation.
After a while, the scenery changed. We were now hiking on grassy plain-like terrain, and in the distance we could see a bowl of mountains, with King's Peak just barely poking above the others. We crossed a cool little footbridge, then continued on towards the bowl.
We camped our first night a couple hundred yards from Dollar Lake. As we were looking around for a place to camp, we found two bull moose grazing on some bushes. It was a pretty cool experience—that was my first time seeing a wild bull moose.
Day 2:
We started making the slow climb up and out of the bowl towards King's Peak. It was long and steady work getting up and over Gunsight Pass. But as we gained elevation, it was neat to look back at all the terrain we covered the previous day. After a while the trail changed from a dirt path to a boulder scramble.
When we got to the top of the pass, we saw the strangest sight: a lone, riderless horse making it's way up the other side of the pass towards us. Our imaginations went crazy coming up with interesting scenarios for how this horse came to be wandering the Uintas by itself. But we soon saw that the horse wasn't alone. On the valley floor below us we saw a huge herd of sheep being driven by a couple of cowboys.
After making our way down the backside of Gunsight Pass we saw a huge green expanse in front of us. Our trip didn't take us into that terrain, but one day I'd like to explore it more.
The weather had been on and off drizzling all day. And by the time we were ready to stop for lunch it was pouring and windy. We took shelter in a little stand of trees.
After lunch it was time to start making the slow march up towards King's Peak. The trail wasn't always clear, but there were plenty of cairns along the way to keep up going in the right direction. The rolling mix of green grass and boulders was relaxing and beautiful. The sun came out and we stopped for a rest.
Soon the grass ended, and we were hiking through boulders. Up and up. Once we were to the top of Anderson's Pass (before you turn south to summit King's) we were able to look down and see Henry's Fork Basin we had hiked through the previous day. At the top of the pass we dropped our packs and started scrambling up to King's Peak.
King's Peak was tiring to climb. It's really just a huge pile of giant boulders. Getting to the top requires a lot of scrambling and it's prime terrain for twisting an ankle. But that makes getting to the top even more of an accomplishment. It was a cool feeling being at the top and knowing that you were the highest object in the whole state.
After grabbing some pictures we climbed back down to Anderson's Pass, then continued East down the other side of the pass.
Eventually we came to a level, green terrain again. This was one of my favorite sections of trail we hiked this trip. I love soft dirt and level trails. I really enjoy just being able to cruise along on my feet and watch the beautiful scenery roll past me.
Our second day was by far the most physically taxing. We were all worn out by the time we reached our campsite. We camped near a stream (I think Yellowstone Creek) in a field surrounded by pines. Just as we were finishing up dinner it began pouring. It rained all night which was the first real wet weather test my Lunar Solo tent had and she passed the test with flying colors. There was also some big thunder and lightning during the night. It woke me up at one point—it felt like it was right on top of us. The flashes of thunder were super bright, and the claps of thunder were booming and loud.
Day 3:
The day started off sunny and nice, and we put some good miles underneath us rather quickly. We headed off toward Smiths Fork Pass and our eventual destination for the night: Red Castle Lake.
Just about the time we were starting to climb up the pass, another storm rolled in and started pouring on us. This time we had some good hail mixed with the rain. This was also the first time I was able to test my new "rain kilt" (aka a trash bag), and besides working great to keep my shorts dry, it's totally fashionable.
Not long after coming down the other side of Smiths Fork Pass, the weather cleared up and we made our way up and around Red Castle and back in to Red Castle Lake. This section of the hike is nice, level hiking through beautiful highland woods.
We eventually made it to Red Castle Lake by early afternoon. We set up camp and enjoyed just lounging around. I was hoping to get some great pictures of a red sunset lighting up Red Castle, but the clouds didn't cooperate the way I was hoping.
Day 4:
The day started out sunny and bright and we merrily made our way north towards Lake Hessie. It was clear that this section of trail receives a lot less visitors than the trails that lead to Dollar Lake and King's Peak. I don't remember seeing any other hikers on the trails this day.
As the day wore on and we were no longer following the river with its interesting falls, we started climbing up again to reach Lake Hessie. The weather turned sour again and on we marched. Besides seeing few other people, we started to realize the trails in this area are a lot less well maintained. At a certain point we realized we had passed the turn off to Lake Hessie and were starting to walk miles that we had planned on doing the next day. After a brief talk, we decided to just keep going and whittle away at the next day's mileage and make it to Bear's Lake to camp.
Before descending back into Henry's Fork Basin, we saw a familiar site: the bowl of the basin with King's peak prominently in the distance. This time there was some snow (or hail) on the west face, leftover from the previous day's storm. It was great feeling to look at the familiar sight and be able to trace with our eyes all of the miles we had gone. Up and over gunsight pass, up to the top of King's Peak, down Anderson's pass, and then up and around to where we were standing.
We spent a good last night at Bear Lake with a nice fire and some fun talk late into the night.
Day 5:
Since we had walked further the day before, our last day was a short one. We headed north, back of Henry's Fork Basin towards the trailhead. At this point, the trail was one we had already walked before. As we descended out of the high country, back into the forest and towards our car, I felt like I was leaving a special place. This was my first time really getting into the Uintas, and the trip made me really grateful to have such a pristine and expansive wilderness so close to home.
Last edited: