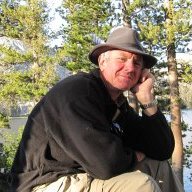 Joined

Sep 30, 2014
Messages

579
Just back from five days of day-hiking in Kings Canyon, most of it out of Cedar Grove. We'd never really spent a few days just to focus on this area until now…
We arrived the evening of Memorial Day, which meant that the crowds and had left, and the whole area had a rather subdued feeling to it. Sentinel Campground, except for one ugly incident (more on that below) was absolutely idyllic–spacious, quiet, and well-maintained. The first day we hiked Zumwalt Meadows to Roaring River Falls and back—and had that trail to ourselves until we hit the crowds at the falls themselves. A great way to get acclimated to the moderate elevation (about 5,000 feet.)
Day two had a real adventure in store, as we hiked up the Hotel Creek Trail (dripping hot in the sun and the temps in the low 90s). But that was only the beginning. We then clambered over a bunch of downed trees to get out to the Cedar Grove Overlook, and then bushwhacked our way through the remains of a trail down to the Lewis Creek trail. After that, it was clear sailing down to the Canyon floor, where we ate lunch and then had a delightful bear encounter on the trail back to the campground.
Day three was along the South River trail–much better than the usual sandy slog via the Bailey Bridge–to Bubbs Creek, and then up that trail beyond Sphinx Creek for fabulous views up Paradise Valley, down Kings Canyon, and straight up at the sheer granite of the Sphinx and its friends. The only sad part of this day was the discovery that someone had taken some of our gear from our campsite while we were gone. Terds.
Day four was a bit of a break, as well only did a morning hike up the Don Cecil trail to get views of the Monarch Divide and Mts. Gardiner and Clarence King, and then took the afternoon off to loll along the river on the North River drive. I even did some very ineffective fishing for a couple of tiny trout.
And day five had up driving up out of the park, stopping to hike the North Grove and Dead Giant Loops to see more magnificent Sequoias. All in all we did about 35-40 miles of day hikes, and really fell in love with this area–often thought of as front country, but we saw no more than six people on any of the trails we took.
The full report, complete with a link to the photo blog, is on our website:
https://www.backpackthesierra.com/post/the-canyon-of-kings-trip-report