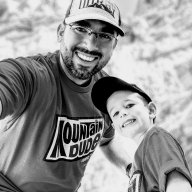 Life Elevated - Rising Higher
Joined

Feb 25, 2013
Messages

596
Disclaimer: I DO NOT recommend canyoneering with little children. If you do something wrong, you could kill you and your kid!!!! (now let the hypocrite tell the story....
Blake:
"Hey Dave!!!!! So we have a change of plans
Don't worry we are still going to do Cassidy Arch Canyon, but
+Joel
can't make the trip
. He just texted me and said he can't come. AND.... Josh is going to bring his 3 kids. He has two 3 year old twins and an 8 year old girl.!
"
Dave:
**look of worry quickly followed with a forced smile** "Sounds good, I am just here for the ride!"
Moments later....
Dave Texting his wife
: "This is going to be an interesting day"
On Jan 11th,
+Dave Owen
,
+Josh Davis
and his 3 kids, and I all embarked on the canyon journey through Cassidy Arch Canyon in Capitol Reef National Park. Little did we know how awesome this day would be! Cassidy arch is one of the best "bank-for-your-buck" canyons I have done. The hike along the trail to the top of the canyon is relatively easy. You find yourself meandering up a nice maintained trail that grants you access to some views of some really beautiful country!
After a beautiful walk along the rim of the Grand Wash, we found ourselves looking at the majestic Cassidy Arch. It is a large and very beautiful arch and it was so cool to see it in person!
This little canyon starts with a BANG! right off the bat, we find ourselves rigging a 140' drop with a retrievable anchor. Rigging the drop for that rappel was the easy part
What made us nervous was taking 3 children down the canyon with us! For the first time ever, we had to rig our rappels for two. Don't worry, I watched a You Tube video on how to do it, so we were totally fine!!
**chuckle chuckle** Seriously though, I DID do some research on how to perform an Assisted Rappel (You Tube definitely helped) and the evening before the trip, Josh and I practiced from the comfort of the rope hanging from my basement ceiling. AFter that bit of practice we were confident we could rappel safely with the kids. SOOOOO.... what did we do. We rigged up Dave and Josh's daughter and sent them down first! The interesting things about them doing it first is that they were the only two on the trip that hadn't ever learned or practiced an assisted rappel LOL. They were good sports and trusted what we told them. Dave was the first in our group to successfully descend a 140' drop in tandem with someone else.
Soon enough, It was my turn to rappel with one of Josh's 3 year olds. What a task that first rappel was! I had to manage the pull cord, keep the child from falling off the edge of the cliff while you were trying to rig everything, get the child harnessed up, clip into the rope, clip the child into the rope safely, keep the GoPro from snagging in the tree, Arrange the child on the correct side so I could rappel correctly, and finally safely descend the drop with out smashing the kid. Yeah, it was quite the rappel! The best part about all of this was how the kids reacted once we were descending down the rope! They were as happy as could be and were having a TON of fun! They LOVED it. I am not sure that they were really aware of what was going on, but they sure did have a fun time hanging in their little harness. They were not shy about looking down and trying to find their Brother, Sister and/or Dad.
Well... the first drop was done, only 6 more to go!
We got better with rappelling with the kids. Every drop proved to be a unique and challenging experience. Some drop were completely overhanging. others required guide lines to get to. Some had narrow starts, but in the end all were wonderful adventures.
Cassidy arch canyon has 3 arches you get to rappel though! It was so pretty and so fun.
Because we had 3 kids with us, what normally would take us about 3 hours took us 8. We were so proud of all the kids. Josh's daughter hiked the whole things all by herself. and the Twins hiked most of it. Every once in a while Josh would pack them in his baby-backpack, but that was mostly for the hike up to the arch.
speaking of packs, I laugh everytime I think about Josh's pack for this trip. Usually his pack is filled with ropes, webbing, and other canyoneering gear. This time it was a Baby Backpack, hauling an occasional child with the associated harnesses, helmets, extra food, clothing, diapers, and wipes! HAHA! That has gotta be the best canyoneering pack ever!
This trip was one of best canyon adventures ever. Not only was the canyon extremely pretty and wonderful; it was also really fun to troubleshoot and problem solve how to get small kids through safely. For me it was a wonderful day. It was fun to see Josh beaming with fatherly pride! I can only imagine how happy and excited he was to have his kids with him for some of his favorite activities! That just might be the perfect day for a Dad. I hope one day to experience it for myself
Featured image for home page: