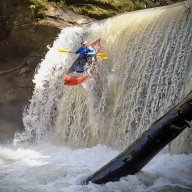 Joined

May 3, 2013
Messages

556
One more whitewater video...it's gonna be awhile before I get back on the water again. Its been pretty much one "polar vortex" after another down here, but I've been lucky to squeeze in a few trips between the deep freezes. Kayaking with temps in the 30's seems balmy these days...as I type this its 11 degrees, wind chill of 3.
The Tellico River is known for its world class trout fishing. It's headwaters lie in the Unicoi Range in far western North Carolina, flowing west into Tennessee and the Little Tennessee River. Kayakers are drawn to a section called the Ledges, near beautiful Bald River Falls and the tiny town of Tellico Plains, TN. Its class 3-4 whitewater, depending on the water level. Baby Falls is a 13' waterfall into a deep pool, and many boaters get their first taste of vertical kayaking here.
This area also has some of the southern Appalachians best hiking and backpacking. The Citico Creek and Joyce Kilmer-Slickrock Wilderness Areas are nearby, great escapes from the maddening crowds of Great Smoky Mountains National Park to the north.
All video footage is from the GoPro Hero 3.