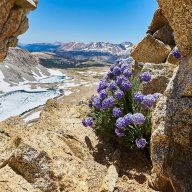 Joined

May 16, 2016
Messages

1,183
How about another east coast trip report? I'm posting this in the backpacking forum since this felt like a backpacking trip even though there was some paddling involved. The only thing different from a "normal" backpacking trip was the cooler full of beer
I dropped the kids off at school and headed south a couple of hours to Laurel River Lake. I had been eyeing kayaks for a couple years and in the fall pulled the trigger on an inflatable kayak. This was the first overnight kayaking trip. The weather forecast looked like it should be a good weekend (sun during the day, temps from 30-60), but a little windy and some rain overnight. One lesson learned on this trip, wind really matters when you are paddling. I never really paid too much attention to the wind par of the forecast from a backpacking point of view.
Beautiful day, but launching into the wind had waves breaking over the bow of the kayak. Once I got out of the wind, I was able to enjoy the day.
Here is me enjoying the day even more
I found a good campsite with potential sunset views
And then the stars came out
The next morning it was very windy
After a really hard 2 miles and 2 hours of paddling, I ended up putting in at the boat in campground and doing some hiking
and then setup camp and waited for the sunset and stars
The sunset was not that impressive, but the stars were really nice
Woke up the next morning to sunny and no wind, an easy paddle back to the boatramp.
A great couple of days, more pics and a lot more detail here
https://backpackandbeer.blogspot.com...iver-lake.html