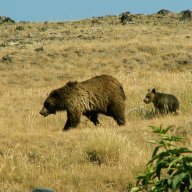 Joined

Jan 23, 2012
Messages

601
About 5 years ago i decided that I needed to buy a water filter because I kept running out of water on my day hikes. I did a ton of research and was being kind of penny wise about it at the time. The
Hiker Pro
hit my price point and had awesome reviews so, I went for the purchase. I got it with the annual 20% REI discount and I paid around $55 for it. This was before I got into backpacking and I wasn't thinking about weight or size. It packs into a pouch about 3"x5"x8" including all hoses.
It came with a
Nalgene bottle
adapter, lube for the O-rings and a sponge to clean the pre-filter with. Of course the in and outflow tubes were included as well. The in-flow tube includes a float on it to keep it off the bottom of the lake or stream. I think most pumps come with this feature now so not a big deal, but convenient.
The specs say it weighs in around 11 oz and that is accurate for the pump only! The entire pump with hoses etc. weighs in at 14.8 oz, a little on the heavy side. The specs also say that it can pump 1 liter per min and I would say that is pretty close. I just haven't been in a hurry enough to worry about the speed at which it pumps yet. Another thing about this pump is if you drop it you can still use it unlike some that have a ceramic filter. Let's face it, it's plastic, if you drop if from a considerable height or slam it down it will crack.
I have never had an issue with this filter! The liters pumped per filter are slightly more than they say. I attribute this to the pre-filter, which I love! If you get into some dirtier water take the sponge, wipe it down and get back to pumping. Of course if you get into some nasty water your filter is probably going to clog pre-filter or not. That happened to my friend with his regular Katadyn Hiker model. The pumping action has been fluent and I have not had an issue with it binding on me. i have seen some reviews that say this happened to them, but if you keep it lubed it shouldn't happen. Overall I have been very satisfied with this pump and i have gotten everything out of it that I expected and then some. :twothumbs: