Adventure is my middle name...actually it's Keith.
Joined

Sep 26, 2012
Messages

444
I'll preface this by saying it is by no means backcountry, but more just a nice, easy hike that is best - in my opinion - during the winter. During the summer and fall it is so crowded since it's more of a frontcountry hike.
I hiked this last hike because I needed a break. School projects, work and everything was building up and I was done being able to handle it. Here is what I posted on my blog:
www.mountain-dude.blogspot.com
.
William Blake, an English poet in the 1800s, said some pretty nice things in his day. My wife recently created a project that had a quote by him on it.
"My business is to create."
See, that's some good stuff.
I think it's the business of everyone to create. Mathematicians create math. Doctors create health. Engineers create things. Teachers create learning. Think about what you do for work and you are creating something. First few chapters of the Bible (and other holy writs) are about THE creation.
WE ALL CREATE!
So it's established that we create and what we create can take on many forms.
As a student to Southern Utah University and also working full time, I've found that I can get busy really fast. All in the name of creating something of myself (at least that's the hope). At times I've been so busy for so long that I no longer can focus or pay attention to the things I am creating; my creation is terrible.
This happens to everyone in their creation process. We get burnt out. Luckily, the career that I'm creating is in recreation.
Look at the word (RE)CREATION or (RE)CREATE or (RE)CREATING.
(Re)creation is a vital part of getting back in sync with ourself so we can continue to create. And there are plenty of ways to (re)create. I'll tell you the negatives I see (and I could point you to many research articles if you ask) in many forms of what is sadly passed off as (re)creation. Then I'll get to the main point of why I'm saying all this: GO OUTSIDE.
These (re)creation-ish things are simply mindless fun or hobbies to create and not a way to (re)create.
Video Games- I love video games, but they don't count as (re)creation. You aren't (re)creating
anything; it's already been created and you're just going through the motions that the game says.
Sports- Specifically watching sports (playing sports is a great form of (re)creation) is a killer. I've heard friends tell me that their form of (re)creation is to kick back and watch the game. Don't get me wrong, I love watching college basketball, but I'm simply watching others (re)create. And getting fat off the chips and dip.
Work- "That's stupid to include," my thoughts just told me. Like I said I'm creating a business where I take people outdoors to (re)create and thus those forms of (re)creation, to me, aren't (re)creation at all. Others have also claimed that their work is fun (which it probably is, I love my line of work), but all you are doing the whole time is creating, not (re)creating. You will burn out!
And many, many more excuses to either sit around, work, create or not (re)create.
Now to the dish. (Re)creation is best when it is outside and active. That's all I have to say.
if you are active, you are strengthening yourself. This active part, some refer to as exercise, doesn't have to take the form of lifting weights or running or working so hard you are sweating and there is no enjoyment (Lifting weights, PFFF! I've only been in a gym 3 times in my life). I go hiking, not long or strenuous, just hiking at a casual walk.
I recently found myself unable to create at school and in work. I'd been backpacking and hiking and climbing and canyoneering almost every weekend, but they were for work and school and thus did not yield the benefits of (re)creation.
Finally, before I snapped, I grabbed my backpack (It contains water, food and the rest of my
10 Essentials
. Don't head out there unprepared.) and went to Kanarraville Falls. For info on how to get there check out:
http://www.suunews.com/news/2013/aug/29/hike-week-through-water-kanarraville-falls/
Kanarraville Falls may not be backcountry, but this time of year it serves the purpose.
Short hike and I only saw a couple from Seattle there. As the weather cools off people stop entering hikes, especially ones like this where you are in the water. Wear the right gear and it's easy to deal with.
Here's a few of the waterfall photos.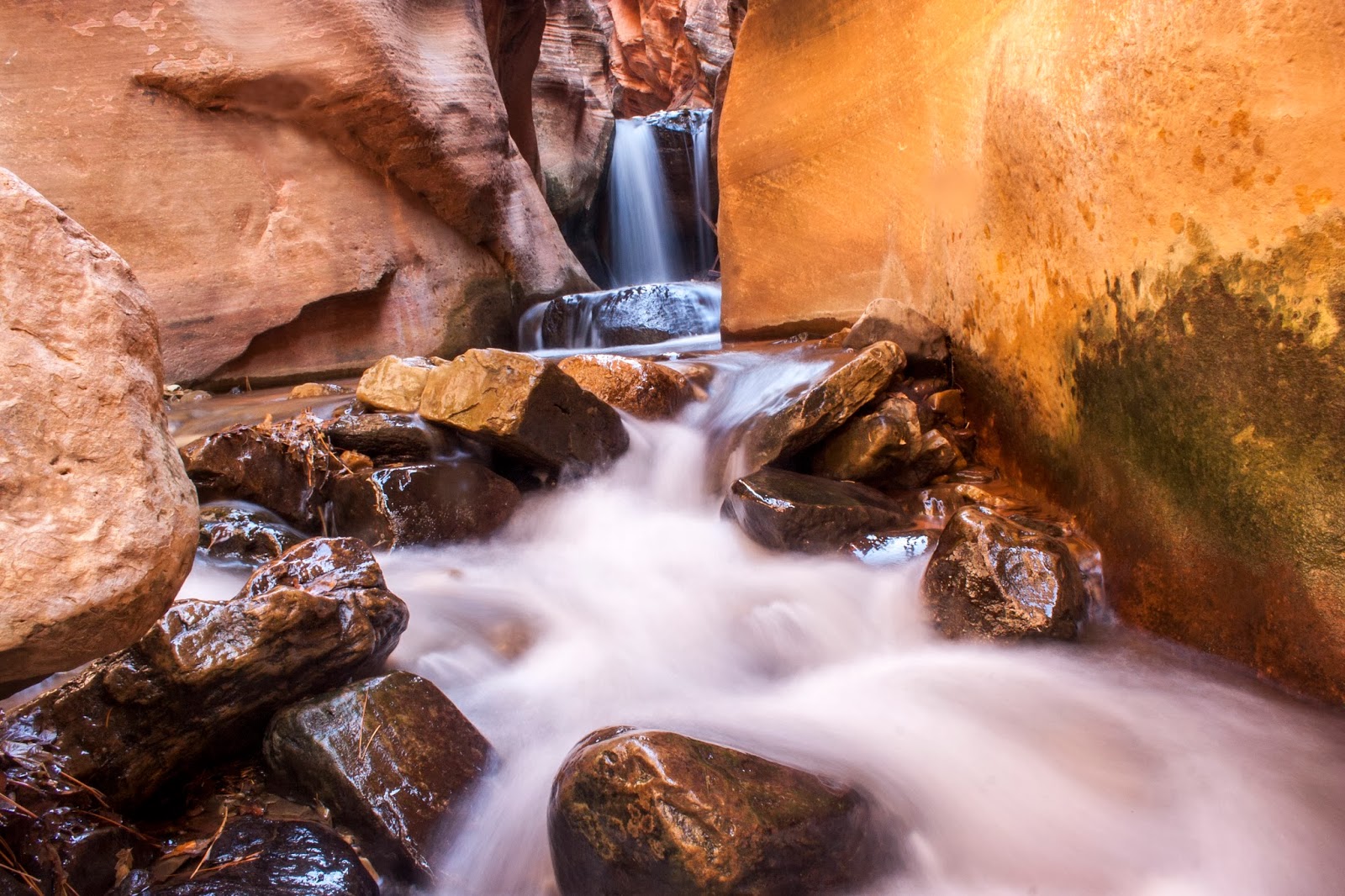 Featured image for home page: