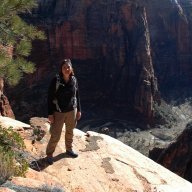 Joined

Jul 16, 2014
Messages

100
My son had put in for permits for North Bass but nope didn't get them so we decided to try another route for our fall Grand Canyon fix. Starting out by driving in the evening to Sowats point. We had an evening of car camping with a surprise sprinkle of rain then woke up in the morning to start our trip. The view from the point.
You can see the trail following the ridgeline on this picture. Poles were helpful for some loose rocks.
First we went down Kwagunt Hollow with it's red rock formations and benches.
A couple of dryfall bypasses, this one with a nice arch.
At the junction with Jumpup. Yes there are a lot of rocks!
Jumpup with it's beautiful walls.
Now into Kanab Creek which is dry at this point.
But soon the first springs come in.
We camped close to Shower Spring, a fun tropical type site.
Another smaller spring closer to our campsite
Next day we left our packs to dayhike down the canyon. We opted to spend more time exploring side canyons and not make the river our goal as we had a limited time schedule. Scotty's castle.
More boulders with little climbs made us happy we ditched our backpacks.
Side canyon to Whispering Falls
Whispering Falls
Hard to get a full image of the falls so here's looking up. Right now the pool has filled in with gravel otherwise I guess I'd be swimming.
We made that our turn around point and headed back to Scotty's Hollow. We were a little puzzled on how to get around the first waterfall then saw a rabbithole bypass.
Scotty's Hollow was beautiful on top of beautiful.
With a few deeper spots as my son found out.
We spent the night back over close to Shower Spring then started our way back up the next day. Look who's waiting for us, rocks!
What causes these perfect circles in the sandstone, aliens?
Evening glow from our campsite. We also had the luck to be there during the Orionid meteor shower. Not tons but long streaks in the dark sky.
Reflections of the canyon
And finally the last climb out.